If you're like most martial artists, you've found that just a little bit of exposure to MMA has gotten you hooked for life.
After a few training sessions or spending your time around the ring, you're ready to take your practice to the next level, and that is best done with your very own MMA gym at home.
With full-time access to a home MMA gym, there's no limit to where you can take your skill.
You'll be able to train any time of the day or night, with the exercises you prefer, and for as long as your energy levels allow you. However, with so much gear out there, how do you know what's worth adding to your gym and what's not?
What are the essential items for a home MMA gym?
A comprehensive home gym suitable for MMA training should have basics like a wrestling dummy, punching bag, jump rope, and durable flooring option.
With just these few items and martial arts training equipment, you'll be able to practice all areas of MMA and keep up your general strength and fitness.
To get started assembling your MMA gym at home, we've hand-selected some of the best products out there.
With just these few items, you'll have a training center that resembles what the professionals use and full-time access to a haven where you can build on your skills and become an MMA superstar in your own home.
Contrary to popular belief, building a home MMA gym doesn't cost thousands of dollars nor does it require an in-depth knowledge of the gear.
With just a few garage gym essentials and a few hundred dollars, you'll have everything you need to train and improve your general fitness, putting you miles ahead of the competition.
Best MMA Home Training Gear – Reviews & Buying guide for 2020
Best BJJ Wrestling Dummy: Jayefo Beast Dummy
Type: Dummy
Usage: Training grappling, BJJ, and wrestling moves
If you're building the ultimate home gym that gives you access to training any time you want it, you might be having a hard time thinking of a partner who can be there 24/7 as well.
With a quality training dummy, there's no need for anyone else, as these lifeless dummies can let you practice all of your MMA moves.
These dummies work with all types of martial arts training and can be the standing when your sparring partner can't make it to the gym, but finding a quality doll is tough.
The Jayefo Beast Dummy is our favorite choice for this type of training, and you'll be able to practice all kinds of moves on the human-shaped device.
Made in three different sizes of three feet, four feet, and five feet in length, it features a torso, head, two arms, and thigh-length legs, giving you adequate space to practice all of your favorite positions.
What customers loved most about this dummy was its flexibility and how well it was stitched together, with Jayefo promising that all of their dolls are hand stitched for quality.
Although one of the cheaper options, that doesn't mean it's been made poorly, and even after months of regular use, the reviewers are still raving about the quality of this training dummy from Jayefo.
Another good feature that reviewers loved was the versatility that its human shape offered. You'll be able to practice Brazilian jiu-jitsu, wrestling, boxing, and any other combat sports your heart desires all with the one training companion.
Because it's been expertly stitched it can take a beating as well, and you don't even need to wear gloves because the material is so smooth and forgiving.
One major downside was that the Jayefo Dummy came unfilled, so if you're looking at the product's pictures and thinking that's how it arrives, you're wrong.
There were a few unhappy customers who realized they had to fill it at home for themselves, but thankfully it's not that hard to do. Jayefo recommends a polyfill for the best results, but you can use anything from old towels to spare pillows, so just get creative.
The color choices for these dummies are black/gray, black/yellow, and black/red, so if you're after a color-coordinated home gym this is good to know.
With handmade stitching through the most important parts of the dummy, it's been built to last, so you don't have to fear using your full force during training sessions.
You can use your Jayefo dummy any way you choose, as it's been designed to lay straight for BJJ practice, or can be placed in a sitting position which is handy for wrestling.
The arms and legs move, and you can even turn the head, so if you want to get right into it and pretend you're in the ring, it'll act just like a human opponent.
The recommended weight of the dummy is between 40 to 120lbs, depending on what you fill it with, and to give the most realistic feel to practice on.
Keep in mind, you will have to purchase some fill to stuff it, but this will be relatively cheap, making it still a great deal.
Amazon also offers free shipping on this item and free returns should it not be everything you hoped for. Eliminate the need for a sparring buddy with this dummy and equip your home MMA gym with the ultimate training companion.
Best Heavy Bag Stand: Everlast 2 Station Heavy Bag Stand
Type: Bag Stand
Usage: Kicking, Punching, Bag Storage
A heavy bag is a must-have for anyone who wants to practice kicks and punches, no matter what aspect of martial arts you're training for. An often-overlooked part of these bags is having the correct place to store them, and that's where a heavy bag stand comes in.
These stands can fit multiple bags on them for all kinds of practice, and they're essential when you're setting up an MMA gym at home.
Our favorite pick when it comes to the bag stands has to be the multi-station option from Everlast. The Everlast 2 Station Heavy Bag Stand is made with powder-coated steel and is built to last, making it a smart investment for your home gym.
There are two stations which means you can install both a heavy bag and a reflex bag, giving you total flexibility for how to train and ensuring that you're ready for anything.
According to customers, the best thing about this stand was the versatility it offered. By having the hooks for both a speed bag and a heavy bag, you've got more options for how you can train.
If there's more than just you using your home MMA gym, you can share the bag stand at the same time, and even come up with some challenges that motivate you to go harder than ever.
Customers loved the feel of this stand and it's a lightweight accessory despite being made with powder-coated steel, so you can move it around the gym wherever there's space to mix your workouts up a bit.
The entire package weighs around 70lbs and it fits a speed bag up to 100lbs on it, as well as space for a heavy bag with no weight limit. If you're strong enough you can even attempt to move it with your training bags still attached, giving you a workout all on its own.
One downside that lost the Everlast stand some points was the fact it could only be used inside, which also said a bit for its durability. If you're planning to create the ultimate MMA home gym outside somewhere undercover, this won't last very long.
Therefore, you may need to spend some extra cash to get one that's durable enough to withstand the harshness of outdoor conditions.
Another negative that customers pointed out was the height of the stand, as it needs around eight inches for more to suit taller users.
You'll need to keep this in mind before purchasing because a bag must be at the right level for it to be effective for target training, and if you're uncomfortable or having to crouch as you strike, it simply won't get the results you need.
The Everlast 2 Station Heavy Bag Stand has an adjustable platform that lets you move where your bag is, and it measures 48.25 inches width, 84 inches height, and 69 inches in depth.
You'll be able to set it up in the corner of your home gym and get to work, with between four to six feet of clearance needed around either side.
In terms of essential MMA and kickboxing equipment for home, having a quality stand like this is paramount to a good training space.
You'll get it shipped free to your home, and save a fortune in freight rates for such a bulky item.
No heavy bag or speed bag setup is complete without the right stand, so put your trust in a beloved combat sports brand and equip yourself with the Everlast Heavy Bag Stand.
Best Gym Flooring: Balance From Puzzle Mat
Type: Gym flooring
Usage: Protection, shock absorption
There's no denying that MMA is a rough and tumble type of activity, and as well as the chance you'll get seriously hurt by your opponent, the ground can do a lot of damage as well.
When you're assembling a professional-grade home gym to practice MMA, you'll want the right support on the floor to keep you covered and the injuries at bay, so professional gym flooring and an MMA mat is required.
Balance From has come up with an easy solution to this with their Puzzle Mat made specifically for home and commercial gym setups. Whether you're using it in place of jiu-jitsu mats, wrestling mats, or just for basic workouts, it's durable and responsive enough to do it all.
Made with high-density EVA foam and 3/4 of an inch thick, you won't feel any of the hard round beneath it, no matter how impactful your workouts are.
According to customers, the quality and resilience of these mats were exceptional compared to others they'd used, even in a professional setting.
Balance From even has a two-year warranty on the mats to prove how good the quality is, so if you're buying something to last in your home MMA gym, you don't need to give it a second thought when it comes to these.
Customers also loved how easy it was to keep their mats cleaned, and if you've ever worked up a sweat during a training session, you know how quickly your gym can get messy.
They feature moisture resistant technology to keep stains away, and if you need to clean them, you can give it a quick wipe down with water and some mild detergent, and the job is done.
There was a minor design issue that annoyed some customers though, and it had to do with the texture of the mats.
Apparently, some of the mats had a different pattern on the surface and when they were all placed next to each other, it was obvious there was something unusual.
If you're someone who likes things perfectly lined up and ordered, this minor detail could be a major one to you, so keep it in mind.
Another slight issue with these mats is the time spent to set them up. As there are 24 mats which comprise of both middle and border pieces, you'll have to spend some brainpower figuring out what goes where.
Larger pieces would have helped with this, but then again it might take away the freedom you have to design a space that suits your gym, so it's a sacrifice we have to make.
The Balance Form Puzzle Mat comes with 24 tiles and 48 end borders, which makes a 96 square foot area. The measurements of each tile are 24" x 24" and you can mix and match them however you choose to meet the space of your home gym.
The mats interlock with each other using a special border design, and they come apart just as easily when you want to change things up.
Amazon will ship them for free to your home gym and give you the 100% satisfaction guarantee and two-year warranty from Balance From, proving just how superior these mats are.
Without a solid foundation for your home gym, you won't be able to train as hard and fast as you need to, but just one set of these puzzle mats and you'll be working out like the pros.
Best Reflex Ball for MMA Punch Training: American Fist Reflex Ball
Type: Reflex ball
Usage: Target training, punching
One of the most powerful moves used in MMA is the punch, and this can be said for almost every type of martial art practice
Without the precision, speed, and power that a good punch can deliver, you won't do much damage to your opponent, so when you're setting up a gym at home, it's an essential skill to practice.
The American Fist Reflex Ball is an easy and affordable way to get your punch training in, but it's not done using the type of equipment you might think.
Rather than using a punching bag or mitts for your practice, this reflex ball attaches to your head and an elastic band, with a range of different balls you can use to practice your moves.
With this device, you'll improve speed, agility, precision, and power, and using only a lightweight accessory and your fist.
According to customers, the portability of the American Fist Reflex Ball was a huge advantage for them. Although you'd have it set up in your home MMA gym, having something like this that can travel with you means you never have to go without training.
You can take it on vacation, to the office, and even practice in the park when you want a change of scenery, unlike lugging around a huge boxing bag.
Another great feature that customers loved was the range in difficulty which means you can give yourself a challenge once you master the first stage.
There are four stages to choose from, and four different balls that deliver them, so you'll always be able to give yourself a new test, and will be improving your hand-eye coordination further each time.
On the downside though, the device wasn't built to last for years, and although you'll get some adequate training out of it, you will also have to replace it now and then.
Some customers mentioned the elastic weakening and others found their headband started to stretch after regular use, so it's something to be mindful of.
American Fist has included a pair of hand wraps with this package, but they probably could have gone without. Although it was a nice touch and way to add value to the sale, customers found they weren't the best quality and ended up giving them to someone else or not using them at all.
The money spent on these straps might have been better used improving the strength of the overall accessory, according to the customers who didn't like them.
The American Fist Reflex Ball Set comes with four lobster locks to use with each of the balls, making it easy to change them in seconds.
The headband has been designed with an anti-slip construction so even as you're punching away at full speed and force, it's going to stay put right on your head. The whole device weighs just 0.18lbs making it portable and convenient, and a must-have for your home MMA gym.
If you want to get your hands on this revolutionary punch training system, it's incredibly cheap when you shop at Amazon, for less than $20 a set. To qualify for free shipping, you'll need to purchase two, but if you're using it regularly, it's good to have a backup anyway.
Becoming a punching machine has never been easier with this cool device, and in our eyes, the American Fist Reflex Ball Set is essential for your MMA training.
Best Jump Rope: Multifun Jump Rope
Type: Jump rope
Usage: Cardio workout
There's no MMA champion on earth who doesn't spend a good chunk of their training time on cardio, and without a high level of general fitness, you're not going to do very well against an opponent.
When you're creating the ultimate MMA gym at home, a cardio station is a must, and the most effective way to get it while using minimal space is with a jump rope workout.
With so many jump ropes in the fitness market, we've narrowed down our preferred to the Multifun Jump Rope, as it offers some a little different.
Not only is it a quality rope but it comes with a digital component and LED display that can show you calories burned, weight lost, time spent, and circles jumped. By combining the classic workout of jumping rope with the new-age way to keep tabs on yourself, this is our favorite choice.
The best thing about this rope was the LED display, and customers raved about how much it helped motivate them during a workout.
You can set your weight on it and it'll show you specific details about your exercise routine, including how many rotations you did and the calories burned.
This makes it easy to challenge yourself and try to continue topping your best time, giving you a goal-oriented training session with one simple device.
Another great thing about the Multifun Jump Rope is in the inner construction. The rope has been made with built-in quality ball bearings that prevent it from twisting and bending.
If you've ever skipped with a standard rope before you know how much frustration they cause when you get tangled up, but this isn't something you have to worry about with this special rope.
On the negative side of things, you want to be careful when you're skipping with full force using this rope.
Because it's made with a layer of steel and then covered with PVC, instead of just fabric or rubber-like other ropes, you'll be in a fair amount of pain if you accidentally whip yourself.
This also makes the whole rope heavier which can take some getting used to but is similar in style to how the MMA professionals train.
The counter is a nice touch, but some people found it annoying to hold onto when they were skipping and would prefer to jump without it. This would depend entirely on the individual, as others commented that it felt just like a handle, and they couldn't notice it at all.
The Multifun Jump Rope is nine feet long and is adjustable to suit both adults and children. If need be, you can make the rope shorter and use the included Velcro binders so that there's no excess overhand as you jump.
The overall length of the jump rope is 110", the jump counter goes up to 9,999, and it suits users up to around 250lbs, so it's a great workout tool for everyone.
Not only is it affordable, but it also comes with free shipping, and you have the freedom to use it anywhere you want, not just in your home MMA gym.
FAQs of MMA Training Gear
MMA comprises a huge range of martial arts and combat sports and building a gym that allows you to train for it means the gear will be versatile as well.
As a rule of thumb, anything you choose should have more than one purpose to get the most use out of it, so make everything count. We've answered some commonly asked questions about gym essentials to help you find the right gear, and learn how to use it best.
Is A BJJ Dummy A Good Substitute For Real Training?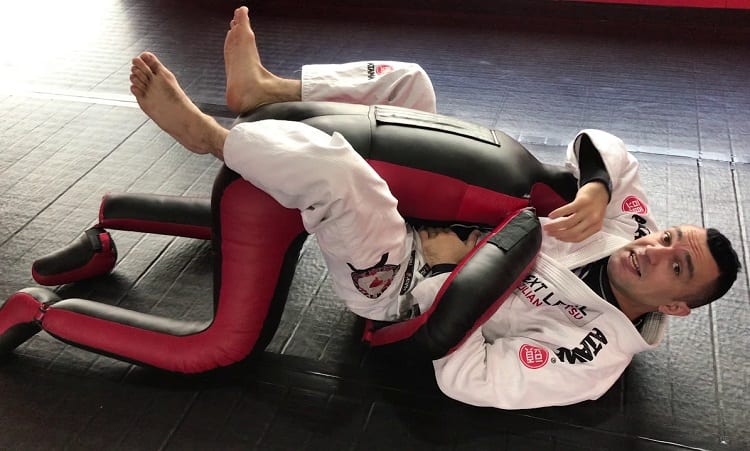 A grappling dummy used for Brazilian jiu-jitsu training can be helpful with some aspects of the combat sport, but not all of them.
These dummies are best used for groundwork training and helping you perfect throws when you don't have a partner available. However, they can't be used to practice takedowns or anything that requires your training partner to use force against you.
How Do You Point A Heavy Bag On The Stand?
When placing your heavy bag on the stand, you first must make sure the stand has been built to carry as much weight as the bag so that it's safe and secure.
Some allow for 360-degree movement around them and others only on certain sides, so when you're setting it up, it should be pointed in the area where you'll have the most ground space to move around as you practice your strikes.
Can Gym Flooring Cushion Your Falls?
There are a few options for flooring that are better at absorbing shock and providing a cushioning layer for your gym.
With a quality gym floor installed, you'll be able to practice grappling, wrestling, jump rope, and any other high impact exercises without worrying about the strain they might put on your body.
What Is A Boxing Reflex Ball and How Does It Work?
A boxing reflex ball is one that moves when it's hit. As your speed and accuracy improve when striking the ball, the ball will return longer and faster, which enables you to build up a good rhythm.
For MMA practice, it's an essential piece of gear for improving precision and speed when it comes to striking and removes the need for a training partner.
What To Look For In A Jump Rope?
When you're buying a jump rope, the length is the most important feature to consider. A jump rope should be long enough to reach your armpit level when you stand in the middle of it, so measure this length on your body to make sure you get the right fit.
A lighter rope is ideal if speed is your goal, which it should be when used for MMA training, so opt for something lightweight.
MMA Training Made Easy
Whether you don't have time to visit your local training center or you're looking for ways to save money from your regular gym membership, there are loads of benefits to building an MMA gym at home.
Having full-time access to the gear and somewhere you can work comfortably at your own pace will do wonders for your proficiency in mixed martial arts.
Thankfully, it's not hard to create your gym with just a few basics, and from there, you can add to it whatever specialized gear you want. Not only will you have somewhere to practice grappling, striking, and the many styles of martial arts, but a great home gym to keep your fitness up as well.
We've rounded up the most affordable and quality gear to help you build an enviable MMA gym to rival any professional training center.
With the products recommended in this guide, you'll have everything you need to create the perfect MMA gym at home without spending a fortune, and the easiest way to build your skills.
---
recent posts