Martial arts have been around for ages, and countless movies depict these unique fighting styles. They will also showcase some over-the-top fighting scenes that will blow your mind.
These might be old martial arts movies, but what they lack in modern special effects; they have it in authenticity.
There is a lot of history and cultural significance to each one of these films. As a result, many people have been drawn to martial arts and started practicing them. If you're one of those people, you'll love our list of the top 10 best old martial arts movies!
With that being said, let's jump right into the countdown starting with number 10…
10) Five Deadly Venoms (1978)
Five Deadly Venoms doesn't only serve as a fantastic old martial arts movie; it's also the embodiment of Hong Kong cinema's mastery in delivering ageless stories that embody martial arts.
And the main plot revolves around five martial arts students who use their lethal skills for evil purposes. So, this compels their old teacher to track them down.
But how can you find someone without knowing their identity? You'll get your answer in a cinematic masterpiece that won't disappoint!
Five Deadly Venoms movie review
9) Fist of Fury (1972)
Deemed as the most violent movie by Bruce Lee. Fist of Fury stands proudly as one of the most influential martial arts movies ever.
In that movie, when Chen hears the harrowing news of his master's death, chaos prevails between the Chinese and the Japanese as the Kung Fu student seeks revenge.
Part of what earned the movie its success was Lee's awe-inspiring choreographed moves. However, there were accusations of racism against the Japanese because of the controversial screenplay, making it the last collaboration between Bruce Lee and Lo Wei, the director.
Fist of Fury movie review
8) Police Story (1985)
Jackie Chan made an exceptional return in 1985 with a movie of his starring, writing, and directing. This movie is the first of an impressive series, and it's known for being Jackie Chan's favorite film.
Police Story is about an undercover cop chasing drug dealers. Only this time, you'll enjoy mind-blowing martial arts moves that got fans on their feet when the movie was released.
Of course, there's nothing more enjoyable than watching Chan defy death and wreak havoc on a shopping mall, is there?
Police Story movie review
7) Come Drink With Me (1966)
In ancient China, the general's son becomes the victim of a stealthy scheme when a brutal gang kidnaps him to ensure the safe release of their imprisoned leader.
But, little do the gang members know, the general's daughter, Golden Swallow, is ready to rescue him with her unmatched fighting and disguise skills.
Also, this movie helped bring martial arts to Western audiences, thanks to its elegant choreographed moves, an excellent representation of a female protagonist, and fun-packed plot.
Come Drink With Me movie review
6) The 36th Chamber of Shaolin (1978)
The movie takes place in the Shaolin temple, where a student seeks refugee after the murder of his parents.
Liu undergoes martial arts training in hopes that he'll be able to avenge his parents someday. However, it takes a lot of will, sacrifice, and patience to reach high ranks in Kung Fu.
In addition, the movie inspired many for decades to come with its timeless revenge tale and artistic fight scenes. Also, the hip-hop group Wu-Tang Clan has been vocal about their love for it.
The 36th Chamber of Shaolin movie review
5) Legendary Weapons of China (1982)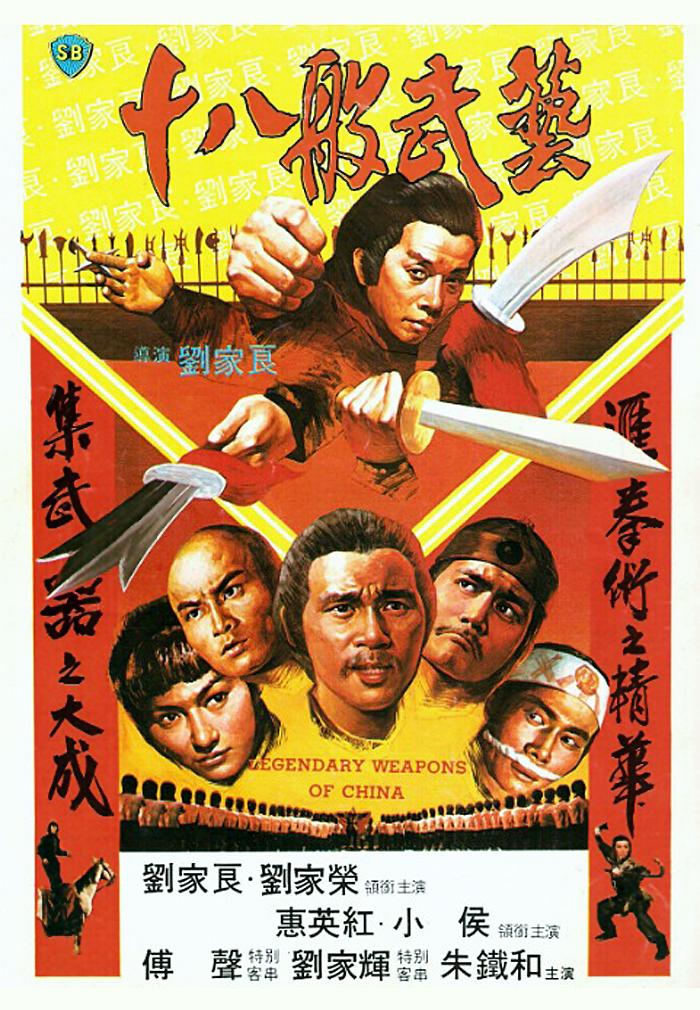 Legendary Weapons of China gained a lot of attention when it was first released due to the vast number of martial arts weapons used in it.
Some martial artists go on a journey, training their bodies to chase a betraying former member. However, the movie's real magic lies in the one-of-a-kind final scene where the villain and the hero show off their mastery of the martial arts.
Legendary Weapons of China movie review
4) The Prodigal Son (1981)
The Prodigal Son takes a comedic twist on the usual martial arts movies with a unique story about a wealthy, ambitious martial artist.
And the movie features Chang, who comes from a wealthy family and believes his future lies in the art of Kung Fu.
However, his father desperately needs to protect his son, so he bribes his opponents to lose intentionally. When the truth comes to light, Chang sets out on a journey to learn authentic Kung Fu.
The Prodigal Son movie review
3) Master of the Flying Guillotine (1976)
With a blind guillotine master and a yoga master who can extend his arms, Master of the Flying Guillotine provides a perfect balance between lunacy and greatness.
A guillotine is a gruesome weapon that neatly cuts off enemies' heads, and it's in the hands of a vengeful expert who's desperately looking for one-armed boxers.
Also, the darkness of the movie attracted many filmmakers to the extent that Quentin Tarantino described it as one of his favorite films.
Master of the flying guillotine movie review
2) The Way of the Dragon (1972)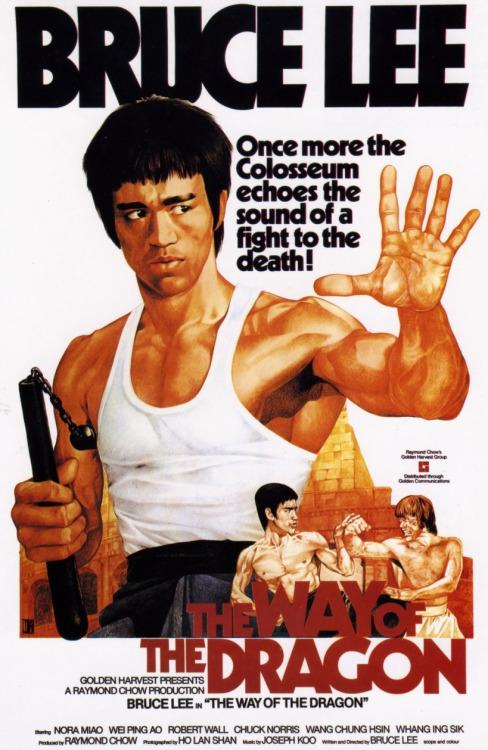 Imagine watching a clash between two martial arts legends in the middle of the ruins of the historic Colosseum. Sounds magnificent, right? This scene is the holy grail of The Way of the Dragon, featuring Bruce Lee and Chuck Norris.
Moreover, the film is about a courageous fighter who protects his family business against gangsters.
It's also the only movie Bruce Lee directed, starred, produced, and wrote. Interestingly, it was the highest-grossing martial arts movie in Hong Kong in 1972.
The Way of the Dragon movie review
1) Enter the Dragon (1973) – Best Old Martial Arts Movies
In this movie, Bruce Lee gives us unforgettable duels and dazzles us with his remarkable mastery of nunchucks. However, the all-star cast that helped deliver this masterpiece heightened Enter the Dragon's popularity even more.
Interestingly enough, this picture was the first martial arts movie produced by a big Hollywood studio. The plot mainly revolves around a martial artist who hunts Han, an outlaw involved in drug trafficking.
Enter The Dragon – classic movie review
Final Ideas About the Best Old MArtial Arts Movies
Even though we might deny it, there's something about fighting that pulls us in. There's nothing like watching a piece of art unfolding in front of you with intricate movements and flying kicks.
Martial arts movies have helped immortalize those smooth movements with top-notch performances and thrilling fight scenes. If you're in for a martial arts movie night, you can start with Enter The Dragon and follow it up with The Way of the Dragon!
Recent Posts