When it comes to martial arts, and Brazilian jiu-jitsu to be exact, you want to be sure you look the part when you're training and competing.
However, the uniform worn by those who partake in this combat sport is about more than just looks, with the gi being an essential part of your technique and success.
The traditional BJJ gi comprises a jacket, drawstring pants, and a belt, and no matter your skill level or where you are with your practice, it's essential to have at least one of these uniforms to call your own.
With so many options on the market now that this form of martial arts has exploded, narrowing down the search to a worthwhile garment has been tough.
What is the best BJJ gi to wear?
Choosing a gi for your Brazilian jiu-jitsu practice means finding one that's right for you, and it needs to be the right cut, feel comfortable, have a suitable design, and be durable enough to withstand regular use and grappling.
Thankfully, there are lots of options out there for gis to suit beginners through to experts, so it's a matter of finding one that suits your preferences.
Rather than sending you out to scour through the hundreds of best-rated jiu-jitsu gi options out there, we've shortened the list for you to show only the quality ones worth considering.
With our top picks, you'll find a gi in every style, including lightweight garments and those made just for beginners, so you can get your BJJ practice off to the right start.
The best Brazilian jiu-jitsu gi is the one that's right for you, so they can differ somewhat in the cut and fit, colors, and what feels comfortable.
However, with quality and durability in mind, we've found some of the best jiu-jitsu gi choices on the market that are well within everyone's price range, and each with something special to offer your practice.
Best BJJ Gis – Reviews & Buying guide for 2020
Best Overall: Submission shark limited edition Gi
Size: A0 – A5
Color: Black
Pre-shrunk and washed
100% premium cotton
Triple reinforced stitching
As a great all-rounder, our pick for the best gi for jiu-jitsu has to be the Shark Frenzy BJJ gi (LIMITED EDITION). This brand is known for making quality gis to suit all martial artists and it's a premium product whether you're a beginner or have been into BJJ for years.
The gi comes with a jacket, drawstring pants, a belt, and a badass shark design inside the jacket.
The best thing about submission Shark gis is the feel of the jacket, with customers naming it their all-time favorite in terms of comfort.
Made from 450gms pearl weave cotton, you will look and feel like the real deal, and having something of this quality and feel will do amazing things for your performance.
Another great feature is the look of the gi, namely the intricate embroidery and patches that have been stitched on. This gives the appearance of a garment that costs a lot more than it does and helps to add a professional touch to your outfit.
On the downside, this isn't a jacket and pant set that can be thrown into the wash haphazardly and then tumble-dried if you're in a rush.
You should use only a gentle cold hand wash to clean this and an air drying out of direct sunlight, otherwise, you'll get fading and torn stitches within no time. If you want an easy gi to clean and want to be able to put it in the dryer, this isn't the option for you.
Submission Shark has a size chart available to help you choose, and their gi sets are categorized by weight.
The pants are lightweight and easy to move in, having a stretch drawstring to keep them secure. Although sensitive in the washing machine, they're durable enough to last years of practice no matter how much contact you have.
The Submission Shark Gis ticks all of the boxes for what a BJJ lover could ask for.
You've got nothing to lose giving the Submission Shark Gi a try, but a whole lot to gain with this top-notch kimono with one of the coolest designs ever. Also, they offer you a money-back guarantee if you're not happy with it.
Runner Up: Fuji BJJ All-Around Uniform
Size: A1-A6, W1-W6
Weight: N/A
Color: White/Black/Blue/Pink
When you're after a simplistic gi without all the bells and whistles, our favorite find is the Fuji BJJ All-Around Uniform.
This classic gi features a high-quality cotton weave belt and jacket, as well as a premium belt, and all made by a name that's trusted in the world of martial arts.
his complete gi comes in four color options of black, blue, and white, as well as a unique pink color that might be favored by mid-ranking children competitors.
The best thing about the Fuji BJJ All-Around Uniform is its simplicity, with people loving that it doesn't have any flashy signs or logos on it, but is just a comfortable and durably made garment.
If you're someone who prefers to keep things basic but you don't want to sacrifice on quality, you'll appreciate the Fuji gi for this very reason.
One great thing about this gi is that it's backed by a well-known brand. Fuji has been designing competition-ready belts for years, and they even have endorsements by some well known Olympic level competitors like Travis Stevens.
This type of reputation is what sets them apart from other unknown brands and why people are happy to purchase their garments without a second thought, and are always happy with what they get.
There were some minor negatives worth nothing though, mainly to do with the fit of the jacket, with some body shapes being left out of the loop.
Some reviewers found that the arms were too long if they were a shorter person, so you might have to get your gi altered if you end up choosing this brand.
Although this won't apply to everyone, it's worth noting that alterations on a gi are a smart idea to ensure it's the perfect fit for you specifically.
The belts are vibrantly colored in an effort to stand out from the rest of the uniform and all made using the durable cotton weave that this brand is famous for.
As the All-Around version of this uniform, this gi has been designed to work in all settings and in every climate. The sizes range from A1 to A6 and W1 to W6 so you're guaranteed to find the perfect fit, and you can use the Fuji size chart to determine which weight is best.
With the trusted name of Fuji behind it and loads of happy customers, you won't go wrong with this mid-weight gi, and you'll notice an instant improvement in the way you move on the floor the moment you put it on.
Best Lightweight BJJ Gi: Fuji Summerweight BJJ Uniform
Size: A0 – A6
Weight: 95.- 300lbs
Color: Black
If you're after the best lightweight jiu-jitsu gi, there's no better choice than the Fuji Summerweight BJJ Uniform. This complete gi comes with a lightweight pearl weaver material and is ideal for hot weather and when you have a weigh-in coming up that you have to meet.
Suitable for both men and women, and come in sizes A0 to A6, it's designed to improve performance in all conditions and can keep you cool and comfortable so you're ready for action.
According to customers, the comfort that this lightweight uniform offered was unlike any other they'd tried. Although it felt breathable and light on the skin, it was also durable, so there were never any concerns that it would rip or tear, even with serious impact and lots of grappling.
This isn't surprising given the stellar reputation of Fuji, but it's nice to see their lighter gis stand up to the test as well.
Caring for the Fuji BJJ Bi is one of its best features as it's been made with pre-shrunk fabric, and this is a brand that can stand by this promise.
Having pre-shrunk fabric means there'll be no surprises after the first one or two times you wash it and you find that it's suddenly smaller. With this garment, you can be guaranteed how it fits the first time is how it will fit every time, no matter how you wash it.
As a slim fitting uniform, it might not be ideal for everyone who tries it on. Fuji is known for having some issues with sizes that fit everyone, and if you're more than a slim build, you might even want to go an extra size up to guarantee it works for you.
Any fighter with an athletic shape or extra weight on them, will likely find things a little tight, especially with the drawstring pants.
These size issues aside, there are loads of noteworthy features on the Fuji Summerweight Gi. The gi is made with a rubber collar inside the fabric that allows it to dry fast, and it only needs a gentle cold water hand wash to get clean.
Although not recommended for everyday use, you can throw your Fuji uniform in the washing machine when you're in a bind, and tumble dry it now and then without any shrinkage.
If you've been looking for the perfect gi for warm-weather training or something to wear to weigh-ins, the Fuji BJJ Summerweight Gi is our top pick. It's affordable and high quality, with construction and materials that will last through years of use.
For those who want to move more freely and without the heat of a heavier gi, this garment from Fuji is everything you've been dreaming of.
Best BJJ Gi for Beginners: Sanabul Essentials Ultralight BJJ Gi
Size: A0 – A4
Weight: 115lbs – 270lbs
Color: Black, Green, Grey, White, Blue
When you're new to the world of Brazilian jiu-jitsu and need a gi to get you started, the best choice is the Sanabul Essentials Ultralight Gi.
This gi is made of ultra-lightweight single weave fabric and is great for all occasions, whether you're training at the gym, competing, or going to a weigh-in.
With sizes between A0 and A4, they should be suitable for most, and because they're lightweight you can wear them anywhere. What customers loved most about this gi was the quality of it compared to the price, and it feels surprisingly well made for something so affordable.
When you're just starting out with a sport you're hesitant to spend a lot to get the gear in case it doesn't work for you, but that's not something you have to worry about with this gi.
Sanabul has brand ambassadors that are professional BJJ competitors, and they all stand by the quality as well.
The premium fabric has been pre-shrunk so what you see is what you get, and this makes caring for it easy.
People love how they can put their Sanabul Essentials Gi right in the washing machine and hang it on the line for an easy clean, and thanks to the rubberized color inside, it dries quickly and keeps it crisp shape.
If you do need to shrink it, give it one cycle on a hot wash to bring it down somewhat, so you can get it to the perfect size.
On the downside, the available sizes are somewhat lacking in this gi, so you'll only be able to choose between an A0 and an A4 which can be limiting.
The smallest size is suitable for people weighing 115lbs while the largest only goes up to 270lbs, so make sure you check the size chart offered by Sanabul to find your fit. Their sizes also run differently to other BJJ garment brands, so again it's essential to do your research with this company.
The design of this gi is simplistic, and although there are loads of color options including black, green, and blue, none of them look busy or cluttered. The feel of the garment is comfortable but tough, and you can tell that it's built to last, even for a beginner level gi.
The materials used to make the Sanabul Ultralight BJJ Gi has been specially treated to prevent moisture so in hot conditions, you'll be kept dry and free from sweat.
If you're a beginner in jiu-jitsu and want a uniform that's going to help you excel and feel the part, the Sanabul Essentials Ultralight BJJ Gi is a great choice.
With an option for free returns to get the right size, it's a great deal. For those starting in the sport, this is our top pick for a gi that ticks all of the boxes and stays well under budget.
Best Budget BJJ Gi: Hawk BJJ Gi
Size: A1 – A4
Weight: N/A
Color: Blue, Black, Grey, Green, White
Getting the gear for MMA or BJJ can be expensive, and if you're someone who has to shop on a budget to take part in their passion, it can be even harder to find the stuff that's worth it.
Our favorite choice for the best budget BJJ gi to suit this very description is the Ultra Lightweight Gi from Hawk Jiu Jitsu. This set features ripstop pants, a jacket, and a complementary belt, and there's a range of colors to suit every style.
The best thing about this gi is that it's made for both men and women, so you'll find a comfortable fit no matter your gender.
This is especially helpful for women who have tried other garments in the past to find they're better suited to a man's shape, and it proves you don't have to sacrifice on comfort just because you're shopping for a male-oriented sport.
Another great feature of the Hawk Jiu Jitsu Gi is the free white belt that's included with the pants and jacket, making the entire gi come together nicely. The Hawk brand belt is made with a black bar that lets you attach your tags so you can show off your achievements.
When you're new to BJJ, it can be especially exciting to have somewhere to display you are moving up the ranks, so this is a nice touch for a beginner's belt.
Although they claim to use preshrunk fabric in this garment, it seems that customers didn't agree. Some people mentioned that the jacket or pants were shrinking up to an inch in size less, even with the recommended cold water wash, so it's something to be mindful of.
When you're choosing from the size chart, it's best to pick the next size up rather than your usual size, otherwise, they may not fit after washing.
Hawk Jiu Jitsu has designed this gi in five different colors including blue, black, grey, green, and white. They've purposely left the look of this garment clean so that you can add patches and embroidery of the club you belong to or anything else you want to make it your own.
The pants and jacket are both made of 350sgm preshrunk pearl weave fabric and are great quality for something priced so low, easily lasting for years with the right level of care.
There's no need to blow out your budget just to get a quality gi to start your BJJ journey with, and the Hawk Jiu Jitsu Gi proves it with this set.
This pearl weave combination is great for both men and women, provided you can find one to suit your size. When you shop with Amazon, you'll also be treated with free shipping and free returns, should your brand new gi not be the perfect fit.
Brazilian Jiu Jitsu Gi FAQ
There is no piece of gear more important to the sport of Brazilian jiu jitsu than a gi, and this is true whether you choose to train with it or not.
Finding the right gi and a size that fits you perfectly can be challenging though, especially when you're a newcomer, so we've got the answers to some commonly asked questions to help you out.
How To Size A Gi?
As with most garments, the best way to find the right size of a Brazilian jiu-jitsu gi is to choose based on your weight and height.
As all brands make their garments differently and the materials used are unique, you should refer to the size chart of the manufacturer to get the best fit. Sizes range from A0 through to A6 and there are special sizings like L, H, and W, all of which have different meanings.
Does BJJ Gi Color Matter?
Traditionally, a gi was an all-white garment, but as the sport became popularized the color range expanded. The choice to wear a colored gi is a personal preference, however, some academies may have specifications as to what's required for uniforms.
Today, jiu-jitsu gis come in all colors including camo, pink, and gray, so it depends entirely on the practitioner as to what they want to wear.
How Many Gi Should I Own?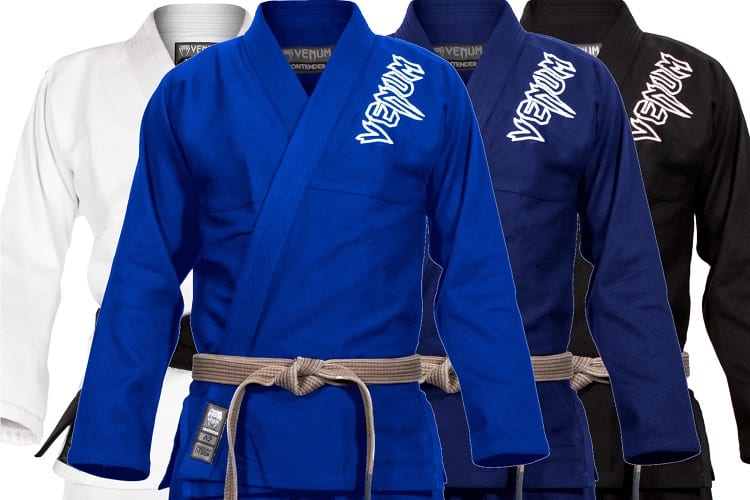 There's no rule in place as to how many gis a jiu-jitsu practitioner should own, but as a general rule of thumb, it's recommended to have one for every class you take in a week.
This keeps them in better condition longer and prevents additional washing in between training and classes. When you're starting the sport, having just one is suitable until you determine your preferences for a better quality gi.
How Much Do Gi Weigh?
A gi weighs different amounts due to their intended purpose, like if it is for everyday use or lightweight practice.
The average weight of an everyday gi used for BJJ is around 4.4lbs and varies from 4lbs to 5lbs, but this can also depend on the size of the garment and the materials used to construct it.
Should I Wear A Rashguard Under My Gi?
Although not required for personal use, some academies require you to wear a rashguard underneath your gi.
The benefits of wearing a rash guard are that they prevent bacteria growth, getting mat burn, and other abrasions that come from this combat sport. They should be cleaned and washed with the rest of your gi as often as they are worn.
A Gi for Every BJJ Enthusiast
No martial artist should be without at least one gi in their closet, and if you're someone who takes the technique and training of Brazilian jiu-jitsu seriously, you'll understand why.
This garment is crucial not just for comfort and looks, but to help you succeed in competition, and choosing the right fit is essential to this success.
Serious competitors and those who train multiple times a week likely have a gi for all occasions, and not only can this help you fit into whatever the conditions, it prolongs the life of your garment as well.
Considering you may need more than one in your closet at once, it's even more important to get it right.
With our recommendations for the best gis in all shapes, sizes, and categories, you're guaranteed to get one that can help you excel.
Even beginners will be able to improve their performance once they're equipped with their very own gi, and seeing just how affordable some of the better brands can be, there should be nothing stopping you.
With a quality gi worn in competition and training, you'll be able to hone your skill and technique, as the garment famously takes away from the speed of you and your opponent.
This is the true way to test your merits as a martial artist and there's no better way to feel like an expert fighter than with a worthy BJJ gi call your own.
---
Recent Posts