With more brands designing BJJ gear yearly, choosing the best BJJ gi is more challenging than ever.
While the right gi can aid your performance and comfort on the mats, the wrong one can leave you feeling restricted and uncomfortable during training sessions.
But with so many options available, how can you know which brand offers the best gi for your needs?
This guide will help you find the best gi for BJJ. From exploring the best BJJ gi brands to some tips on what to look for in a high-quality gi, we've got you covered.
So, buckle up and get ready to dive deep into the world of BJJ gis. Let's get to it.
The Best BJJ Gis 2023
Let's clarify: there is no such thing as the best BJJ gi. It depends on factors such as purpose, budget, and personal preference. While some individuals are die-hard fans of Shoyroll, others may favor Elite Sports gis due to their affordability.
That's why we have compiled a summary of a gi's most common use cases. Let's delve into the top choices for travel, beginners, budget-conscious practitioners, and more. 
If you're in a rush, here are some solid options to consider:
Pre-shrunk for consistent fit.

Cotton and polyester blend.

Best seller in the industry.

Wash only by hand to avoid shinking.
Best Premium BJJ Gi
Owning a premium BJJ gi is more than an expense—it's an investment in precision, durability, and performance. With meticulous craftsmanship and top-notch materials, it's your armor of choice for the battle on the mats. Here are our choices for high-end BJJ gis.
Top Picks: The Best BJJ Premium Gis
| | | | |
| --- | --- | --- | --- |
| | | | |
| | | | |
| | Creative neck lining design. | | |
| | Japanese inspired designs. | | |
If you're investing top dollar in a Jiu-Jitsu gi, there are minimum requirements you should expect in return. Don't let your hard-earned money go to waste if your gi falls short in any of these areas:
High-Quality Material: Opt for specialized weaves such as gold, bamboo, or hemp, as they're a signal of both durability and supreme comfort in a gi.
Impeccable Craftsmanship: Look for meticulous attention to detail in stitching, reinforcements, and cuts, resulting in exceptional quality.
Innovative Features: Seek out anti-microbial and anti-odor treatments and specialized weaves that enhance grip resistance. For example, brands like Origin offer plastic belts to tighten pants instead of the traditional cord, showcasing unique innovation.
Fit and Cut: Prioritize a tailored fit that ensures optimal performance and freedom of movement.
IBJJF Approval: Double-check that your gi complies with competition standards, especially if you plan to compete. Investing a significant amount should be worthwhile. It would be a shame that your expensive gi would be prohibited in competition.
Original Design: An expensive gi serves as a statement piece. Consider a gi with an attractive inner design that expresses your unique personality.
Warranty and Customer Service: Look for brands that provide substantial warranties and responsive customer service.
Finding the Best BJJ Gi for Beginners
Investing in a gi can be a crucial step when you're just starting out in BJJ. But as a beginner, you want an affordable gi that offers comfort, durability, and the right fit.
To begin with, it's advisable to avoid premium brands and fancy designs, at least in the early stages. These can be expensive and unnecessary for the average newcomer. Instead, focusing on the basics will ensure you get the most value for your money.
Top Picks: Best BJJ Gi for Beginners
Based on extensive research and expert recommendations, here are our top picks for the best BJJ gis for beginners:
Pre-shrunk for consistent fit.

Cotton and polyester blend.

Best seller in the industry.

Wash only by hand to avoid shinking.
Remember, the perfect BJJ gi for beginners depends on your preferences and needs. By considering the factors outlined above, you'll have enough information to make an informed decision if our two recommended gis are not for you.
What to look for in your first Kimono
Here are the key things to consider when purchasing your first BJJ gi:
Fabric – Opt for a gi made of 100% or predominantly cotton. This is especially important if you train in warmer weather conditions. Cheaper gis may be blended with polyester, which can become uncomfortable in high temperatures.
Free Belt – While not a deal-breaker, many brands offer a free white belt with their gis. This added bonus not only saves you the hassle of purchasing a belt separately but also makes the entire process more convenient.
Reinforced Stitching – Don't compromise on durability. Even affordable gis should have solid stitching that won't fall apart within a few weeks of use. Look for reinforced stitching in the appropriate areas to ensure your gi stands the test of time.
Pre-shrunk Fabric – BJJ gis can shrink after washing, so opting for gis made from pre-shrunk fabric is wise. This minimizes the risk of ending up with a misfitting gi after a few washes. Fortunately, many BJJ gi brands offer pre-shrunk options, so finding one shouldn't be a challenge.
GSM (Grams per Square Meter) – A single weave lightweight gi with a GSM ranging from 375 to 450 or less is recommended for beginners. While these may not be as durable as heavier gis (in theory), they offer affordability and comfort, making them an ideal choice for newcomers. You can always add more rugged gis to your rotation as you progress.
Embrace Agility: Best Lightweight BJJ Gi
Whether you're a frequent traveler or simply prefer a more agile gi on the mats, adding at least one lightweight gi to your collection is always a good idea, especially for those who value comfort and convenience.
Top Picks: best lightweight BJJ Gis
Here are the best lightweight BJJ gis:
| | | | |
| --- | --- | --- | --- |
| | | | |
| | Lighter than pearl weave. | | |
| | Ripstop jacket and pants. | | |
| Tatami Fightwear Elements Superlite BJJ Gi | | | |
a lightweight gi has many benefits
Better Mobility: A lightweight gi allows for greater freedom of movement, enabling you to execute techniques with efficiency and fluidity.
Travel-Friendly: If you're a globetrotting BJJ practitioner, a lightweight gi becomes your best ally. It takes up minimal space in your luggage, making it ideal for travel.
Quick-Drying: Many lightweight gis are made with quick-drying fabrics, like ripstop. This comes in handy if you don't have access to a drying machine while traveling.
While lightweight gis are great, there are some downsides as well. Understanding these trade-offs will help you make an informed choice.
Some lightweight gis might not be competition-approved. If you're planning to compete, please check the rules. However, sometimes judges will disregard gis at random on competition day.
Even if you think you're on the clear, bring a second gi just in case.
Gear Up The Little Warriors: Choosing the Best Kids BJJ Gi
Choosing the suitable gi for your kids can make all the difference in their training experience.
Here are our top picks that offer exceptional quality, durability, and comfort:
Top Picks: The Best BJJ Gis for KIDS
Cotton and polyester blend.

Includes a free white belt.
what to look for in a kids bjj gi
Here are a few things to consider when buying a BJJ gi for a kid:
Durability – We all know how kids can be rough and tumble, so a gi with top-notch build quality is a must. Look for gis with double and quadruple stitching, reinforced seams, and high-quality fabrics that can withstand your little grapplers' endless energy during training sessions.
Lightweight and comfortable – Young Jiujiteiros need the freedom to move without feeling restricted. Look for gis made from lightweight materials like lightweight cotton, ensuring they don't limit your child's movements. When kids feel comfortable, it enhances their performance and enjoyment on the mats. Look for things like pearl weave or 350 gsm. 
Pre-shrunk fabric – Kids grow up fast, and the last thing you want is a gi that becomes too small after a few washes. Look for gis that feature pre-shrunk fabric, which minimizes the chance of excessive shrinking and allows for a consistent fit.
Best BJJ Gi under $100: Unleash Your Potential on a Budget
Here are our top picks that offer exceptional quality without breaking the bank.
Top Picks: Best BJJ Gi under $100
Pre-shrunk for consistent fit.

Cotton and polyester blend.

Best seller in the industry.

Wash only by hand to avoid shinking.
What to expect from a cheaper bjj kimono
We all want durability, comfort, style, and a nice fit without breaking the bank. However, expecting to find the unicorn gi that checks all the boxes at a cheap price might be unrealistic.
Understanding the trade-offs you'll make in more affordable gi options is important. Let's explore some common aspects where budget gis may differ from their premium counterparts:
Durability – You can't expect to roll four to five times a week and expect your budget gi to take it for years without breaking. We're not implying that a cheaper gi will break immediately, but don't expect it to stay in perfect condition for 10+ years.
Comfort – The fit might be less tailored or customizable compared to their more premium counterparts. Also, several brands will use cotton blended with polyester, which might make the gi warmer than pure cotton gis. However, with some trial and error, you can still find a budget gi that fits you well and allows for enough mobility during training.
Design and style – Don't expect overly complicated samurai designs and patches from a BJJ gi under $100. Often, they'll have a pretty minimalist and clean design to keep the costs low.
Best BJJ Competition Gi
Your competition gi is not the most important aspect of your preparation. However, a suitable gi for the occasion allows you to move seamlessly, execute techniques effortlessly, and fully express yourself on the mat.
Top Picks: The Best BJJ Competition Gis
Here are some of the most popular competition gis:
| | | | |
| --- | --- | --- | --- |
| | | | |
| | Might shrink after washing. | | |
| | | | |
| | Triple-reinforced ripstop pants. | | |
When selecting a BJJ competition gi, keep these essential factors in mind:
IBJJF Approval: Make sure your gi complies with the regulations set by the International Brazilian Jiu-Jitsu Federation for competition. If your gi meets the stringent IBJJF standards, it's likely to be accepted at local and regional tournaments as well. For detailed information on the IBJJF gi requirements, you can find the official guidelines here.
Lightweight and Durable: Look for a gi that offers optimal mobility without compromising on durability.
Optimal Fit: When finding a BJJ competition gi, nailing the right fit is paramount. Look for a gi that hugs your body snugly, offering maximum comfort and effortless movement. Remember, a poor fit means your opponents will have more fabric to grip onto during intense competitions, giving them an unfair advantage. So, choose wisely and ensure your gi fits like a second skin, allowing you to dominate the mat with finesse.
Pre-shrunk Fabric: Choose a gi that has undergone a pre-shrinking process to avoid size issues after washing.
Reinforced Stitching: Opt for a gi with double or triple stitching in high-stress areas for enhanced durability.
Hard to grip: Gold weave fabric gis are a popular choice for grip resistance. However, while these gis offer enhanced resistance against gripping, they may also be heavier. So, before committing, consider whether the potential advantage of improved grip resistance outweighs the added weight.
Best Women's BJJ Gi
Women's BJJ gis are designed with a more tapered waist, narrower sleeves, and often a little extra room in the chest area. This ensures you're not swimming in excess fabric or feeling restricted during your rolls.
After scouring the market, here are our top picks:
Top Picks: Best Women's BJJ Gi
Cotton and polyester blend.

Includes free white belt.
what makes a top women's BJJ gi
Material: When it comes to material, you've got options:

Cotton: Soft, breathable, but can shrink, and by far the most common gi fabric.
Polyester Blend: Less shrinkage but less breathable.
Hemp: Eco-friendly and super durable, but it can be pretty pricey.
Pro Tip: Look for a gi with ripstop pants. They're lighter and more durable, making those intense sparring sessions a breeze.
Fit and Comfort: The best women's BJJ gi should always feel comfortable. Here's what to consider:

Size: Check the brand's sizing chart. Some brands even offer "in-between" sizes.
Collar: A thicker collar is harder for your opponent to grip.
Sleeve Length: Aim for a snug fit to make it difficult for your opponent to grab.

Design and Aesthetics: Who says you can't look fabulous while choking out your opponent? Find a design that speaks to you and expresses your personality. What's trending now is creative patchwork and inner gi designs. Just keep in mind that design often increases the price of your gi.
Best BJJ Gi According to Reddit
Top Picks: Best BJJ Gi According to Reddit
BJJ Redditors have no consensus regarding the best BJJ gi or brand. However, there are trends among users for brands and gis they love.
Some of their favorites include:
Fuji
Scramble Gis
Shoyoroll
A&P
Origin (their Rift and Pro pants)
Manto
Hyperfly
Venum
Kingz (the Kingz ballistico 3)
Inverted Gear bamboo gi
WHAT REDDITORS ARE SAYING
Despite the lack of consensus, one brand jumps off the page on Reddit with several upvotes over others. FUJI Sports.
Comment
byu/rja666 from discussion
inbjj
---
Comment
byu/Ziyado from discussion
inbjj
---
Comment
byu/rjngundam from discussion
inbjj
---
Best BJJ Gi Brands 2023
We've compiled a list of some of the best BJJ gi brands available. Let's explore what makes each brand special.
Tatami Fightwear: Superior Comfort and Style
---
Established in 2009
Tatami Fightwear is synonymous with quality, comfort, and style. This British BJJ gi brand has gained a loyal following over the years thanks to its innovative designs and competitive prices.
Tatami Fightwear offers a large selection of gis, each crafted with top-notch materials ready to withstand the hardships of BJJ training. The Tatami Nova Absolute gi perfectly exemplifies Tatami Fightwear's commitment to excellence at reasonable prices.
This gi is well known for its comfort and affordability. You can usually find it online at affordable prices.
FUJI Sports: popular BJJ Gi Brand
---
Established in 1969
FUJI Sports has been a part of the BJJ community for over 50 years, making it one of the most trusted and respected BJJ gi brands out here. They're well Known for their commitment to quality and durability. FUJI Sports offers a wide range of gis for practitioners of all levels.
But quality comes at a price, and this is not a budget brand. They're in the mid-tier price range for the industry.
One of FUJI Sports' standout products is their Suparaito gi. Lightweight and breathable, this gi gives you comfort and freedom of movement during training sessions and competitions.
With their sleek design and attention to detail, FUJI gis are the go-to option among many Jiujiteiros, including BJJ personalities like Renzo Gracie, Bernardo Faria, and Xande Ribeiro.
You can't really go wrong with a FUJI gi.
Kingz Kimonos: Durability and Performance
---
Established in 2011
Kingz Kimonos has quickly established itself as a go-to brand for BJJ players seeking durability and performance.
Kingz Kimonos offers gis that can withstand the use and abuse of hard training sessions. One of Kingz Kimonos' standout gis is the Kingz Classic.
This gi is made from pre-shrunk cotton fabric, ensuring a perfect fit that won't shrink after washing.
Kignz is also in the mid-tier price range. There are probably better choices for newbies who are not constantly training. But it's definitely worth the investment if you train often.
Origin: The Innovators
Established in 2011
Origin is a brand that prides itself on pushing the boundaries of traditional BJJ gear. These guys are all about innovation and performance. Origin offers gis designed to push the boundaries of what a gi is and how it should feel to enhance your training experience.
Origin is also known for its commitment to American-made products, supporting local manufacturing and craftsmanship. This is refreshing, considering most gi brands manufacture their gis in China, Pakistan, and Bangladesh.
The Origin Nano Pearl gi is a testament to their dedication to innovation. This gi features Origin's proprietary Nano Pearl Weave™ fabric, which they claim is ten times stronger than your average cotton gi jacket but 50% lighter.
With all this innovation and research, it is no surprise that their gis are premium priced. Origin gis are not made for the average BJJ practitioner.
If you're training only a few times a week, there's no point in investing $250+ in their products. However, if you share their values, train often, and love to support innovation, it is more than worth it.
Sanabul: High-Quality Affordability
---
Established in 2014
If you're looking for a high-quality gi that won't break the bank, Sanabul is a great brand to consider.
Sanabul is known for providing top-notch gear at more than reasonable prices, making it particularly attractive to new BJJ practitioners who are not even sure if they'll stick with the sport or not.
The Sanabul Essentials V.2 gi is popular among beginners and experienced practitioners looking for a second or third gi. Made from lightweight single-weave fabric, this gi offers excellent comfort.
Sanabul is trusted by Gilbert Burns, Guilherme Bomba, and John Danaher.
Shoyoroll: The Collector's Choice
Established in 2006
Shoyoroll is a brand that needs no introduction in the BJJ community. With limited releases and collaborations, Shoyoroll gis have become highly sought after by BJJ practitioners.
Each release is carefully curated, resulting in unique and stylish gis that truly stand out. One iconic Shoyoroll gi is the Shoyoroll Batch 60.
Known for its attention to detail and intricate design, Shoyroll gis are high-performance pieces of gear that will last you for years.
The limited availability of Shoyoroll gis adds to their allure, making them highly coveted within the BJJ community. But prepare your wallet, as they're a premium-priced brand.
Gold BJJ: The Perfect Balance
---
Established in 2016
Gold BJJ is a brand that prioritizes both comfort and functionality in their gis. With a focus on providing gear that enhances performance and supports the martial arts lifestyle, Gold BJJ offers a range of gis that cater to both beginners and experienced practitioners.
The Gold BJJ Aeroweave gi is probably one of the lightest gis in the market. Made from a lightweight and breathable fabric, this gi offers exceptional comfort and mobility.
With its minimalistic aesthetic and attention to detail, the Gold BJJ Aeroweave gi is both stylish and functional.
Definitely a great addition to your gi collection. Especially if you like to travel around with your gi.
Elite Sports: Affordable Excellence
---
Established in unknown date
Elite Sports is a brand that aims to make high-quality gear accessible to all BJJ practitioners. With a commitment to affordability, Elite Sports offers gis that not only meet the demands of training but also fit within a reasonable budget.
The Elite Sports Ultra Light Pre-shrunk gi is proof to their commitment to providing affordable excellence. Made from a lightweight fabric, this gi offers exceptional comfort and mobility. The Elite Sports Ultra Light Pre-shrunk gi strikes the perfect mix between performance and affordability with reinforced stitching and a sleek design.
This value-packed gi is probably the best offer for beginners. If you would like to know why, don't miss our Elite Sports BJJ Gi review.
Top BJJ Brands
These are just a few of the best BJJ gi brands the market offers. Each brand brings its unique flair and features to the table, making choosing a gi that aligns with your preferences and needs is important.
Whether you prioritize durability, comfort, style, or affordability, a brand out there will have the perfect gi for you.
Demystifying BJJ Gi Weaves and GSM: Unveiling the Secrets of Gi Fabric & Material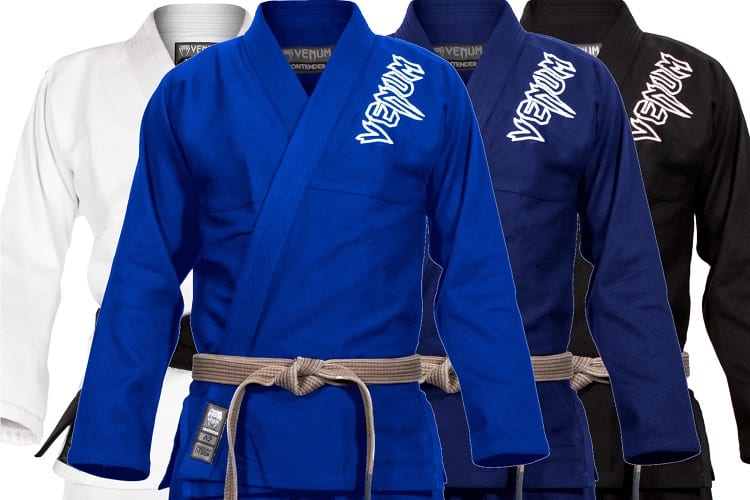 When exploring the world of BJJ gis, it's easy to get lost in the technical terms. Fear not! In this section, we'll shed light on key terms, such as weaves and GSM, helping you easily navigate the intricacies of gi fabric.
What Are BJJ Gis Made Of?
The foundation of BJJ Gis is typically cotton, known for its breathability and comfort. The gi collar is often crafted from vulcanized rubber to offer durability and strength.
For gi pants, you'll encounter two primary materials: nylon-based ripstop fabric, which provides lightweight and flexible wear, or good old cotton, known for its traditional feel.
Key Terms to understand
To develop a deeper understanding of BJJ gi manufacturing, it's crucial to grasp a few essential terms:
Weave: This refers to how the fabric is stitched together and comes in various styles. The weave style can significantly impact the characteristics and performance of the gi.
GSM (Grams per Square Meter): It measures the weight of the gi fabric and ranges from 375 to 890 GSM. It serves as a gauge to assess the fabric's sturdiness and thickness. The higher the GSM, the heavier the gi tends to be.
Common Gi Weaves
Let's dive into some of the most common gi weaves you'll encounter:
Single Weave: Single weave gis are lightweight and budget-friendly. However, they may be less durable and easier for opponents to grip during training or competitions.
Double Weave: As the name suggests, double weave gis are created by weaving two layers of fabric, resulting in enhanced strength and durability. However, these gis tend to be on the heavier side and are often used in Judo rather than BJJ.
Gold Weave: Offering an outstanding balance between strength and lightness, gold weave gis have gained popularity in the BJJ community. It's important to note that gold weave gis may tend to shrink.
Pearl Weave: Pearl weave gis are a popular choice among BJJ practitioners. They strike a balance between weight and durability with minimal shrinkage. These gis are commonly used in both training and competition settings.
Choosing the Best Gi Based On Weave and GSM
Selecting the best GSM and weave for your BJJ gi ultimately depends on personal preference.
Gold and pearl weaves have gained a special place among the BJJ community. However, what truly matters is finding a weave that aligns with your comfort, style preferences, training frequency, and, most importantly, your budget.
If you're still not entirely sure what you need, here's a table to help you navigate the whole weaves/GSM dilemma:
| | | |
| --- | --- | --- |
| GSM Range | Weave Type | Effects |
| Light (375-450 GSM) | Single Weave | Lightweight and flexible |
| | | Less resistance to friction and gripping |
| | | Often more affordable |
| Medium (500-650 GSM) | Pearl Weave | Good balance between weight and durability |
| | | Moderate resistance to friction and gripping |
| | | Commonly used in both training and competition settings |
| Heavy (750-890 GSM) | Gold Weave | Strong but a bit bulkier |
| | | Tends to shrink |
| | | Advanced production methods contribute to durability |
| Heavy (750-890 GSM) | Double Weave | Excellent durability and resistance to wear and tear |
| | | Heavier and more expensive |
| | | Mainly used in Judo rather than BJJ |
Note how lower GSM and simpler weave patterns result in a cheaper and lighter gi. On the other hand, higher GSM and more intricate weave patterns contribute to a bulkier and more expensive gi.
It's important to consider, however, that within the BJJ community, there's a belief that heavy BJJ gis tend to have a longer lifespan.
But Gustavo, our editor, had a dirt cheap light gi for traveling that only broke down after three years of use and abuse, training three times per week. Not bad, considering it was $70.
How Do I Choose My First GI?
So, here's our recommendation:
If you need a BJJ gi that is a jack of all trades, a medium (500-650 GSM) and pearl weave is your best choice. It will offer you an excellent combination of comfort, durability, and affordability. However, it may be too warm during summer.
What if you're on a tight budget?
For the budget-conscious newcomer, the best choice is a single weave light gi. A great example would be the Sanabul Essential BJJ gi.
But if money isn't an issue, getting two gis down the road isn't a bad idea.
You can have a super light BJJ gi (375-450 GSM) with a single weave that is crazy cheap for training. And a medium GSM for special occasions and competitions.
With the breakdown of BJJ Gi weaves and GSM, you now possess the knowledge to decipher the secrets of gi fabric and material. Armed with this understanding, you can make informed decisions when selecting your ideal BJJ gi.
Average BJJ Gi Price
| | |
| --- | --- |
| Gi Type | Average Price Range |
| Budget | $100 or less |
| Mid Range | $100 – $150 |
| Premium | $150 – $250+ |
Top Brazilian Jiu-Jitsu Gi FAQ
There is no piece of gear more important to the sport of Brazilian Jiu-Jitsu than a gi, and this is true whether you choose to train with it or not.
Finding the right gi and a size that fits you perfectly can be challenging though, especially when you're a newcomer, so we've got the answers to some commonly asked questions to help you out.
How To Size A Gi?
As with most garments, the best way to find the right size of a Brazilian jiu-jitsu gi is to choose based on your weight and height.
As all brands make their garments differently and the materials used are unique, you should refer to the size chart of the manufacturer to get the best fit. Sizes range from A0 through to A6 and there are special sizings like L, H, and W, all of which have different meanings.
Should A BJJ Gi Be Loose Or Tight?
Ideally, you want your gi to fit snugly without restricting your movement excessively. It's important to remember that grip fighting is a crucial aspect of the sport, and you don't want your opponents to have extra fabric to grab onto during rolls.
If you prefer a more relaxed fit, that's perfectly fine. However, your gi should never feel too large. Think of it this way: if you typically wear size M t-shirts, you would want to avoid wearing an XXL t-shirt. The same principle applies to your gi.
Double-check the sizing charts and instructions provided by the brands you are considering purchasing from. 
Even a difference of one size can have a significant impact. Getting an A4 when you should have gotten an A3 can greatly affect how you feel on the mats.
How do I know if my Gi is too big?
Usually, you'll notice it immediately upon trying it on. You'll feel that the jacket is too loose and bulky.
A good indicator is if the jacket extends beyond your wrist. A well-fitting gi should sit right at the wrist. Conversely, it's the wrong fit if it covers your hand or knuckles. 
The same principle applies to the pants. They shouldn't feel excessively loose and bulky. Additionally, they should rest a finger or two above your ankle or right on the ankle line.
Now that we got some BJJ gi basics out of the way, let's see which are some top players in the gi industry. 
What do the different colors of gis mean in Jiu-Jitsu?
Traditionally, a gi was an all-white garment, but as the sport became popularized, the color range expanded to differentiate people in competition.
The choice to wear a colored gi is a personal preference. However, some academies may have specifications as to what's required for uniforms.
Today, Jiu-Jitsu gis come in all colors, including camo, pink, and gray, so it depends entirely on the practitioner as to what they want to wear. However, for most competitions, you can only wear the classics. White, blue (not navy blue), and black.
WILL MY BJJ GI SHRINK?
If your gi is 100% cotton, there's a possibility that it will shrink. If you wash it at more than 86°F/30°C and put it in the dryer, it will for sure shrink. If you wash it at 86°F/30°C or less and hand dry your gi you can expect a minimal shrinkage from most reputable brands.
If you don't want to mess around with the whole shrinkage thing, you can buy a preshrunk gi or one that is made out of a cotton and polyester blend.
BJJ gis made out of ripstop (both jacket and pants) are also unlikely to shrink.
HOW MANY GIS DO YOU NEED FOR JIU-JITSU?
There's no rule in place as to how many gis a Jiu-Jitsu practitioner should own, but as a general rule of thumb, it's recommended to have at least two in rotation.
This keeps them in better condition longer and prevents additional washing in between training and classes. When you're starting the sport, having just one is suitable until you determine your preferences for a better quality gi.
But the more often you train, the more gis you might want to have. For the average hobbyist, probably two is enough once they get serious about the sport.
HOW MUCH DO BJJ GIS WEIGH?
Well, it kinda depends on the type and brand. Your average single weave gi is about 2.5 to 3.5 pounds—that's like a small bag of potatoes. If you go for the double weave, which is like the tank of gis, it's gonna be a bit heavier, around 4 to 5.5 pounds.
Then there are those lightweight gis, super comfy and breezy, weighing in at less than 2.5 pounds. Oh, and if you've got some cool patches or designs on it, that might add a bit more weight. So, when you're shopping around, just peek at the product details to get the lowdown on its weight.
WHERE ARE BJJ GIS MADE?
Most BJJ gi brands, even the famous ones, manufacture their products in places like China, Pakistan, India, and Bangladesh. The only brand known for manufacturing in the US is Origin.
Should I Wear A Rashguard Under My Gi?
Although not required for personal use, some academies require you to wear a rashguard underneath your gi.
The benefits of wearing a rash guard are that they prevent bacteria growth, getting mat burn, and other abrasions that come from this combat sport. They should be cleaned and washed with the rest of your gi as often as they are worn.
A Gi For Every BJJ Enthusiast – Final Words
No Jiujiteiro should be without at least one gi in their closet, and if you're someone who takes the technique and training of Brazilian jiu-jitsu seriously, you'll understand why.
This garment is crucial not just for comfort and looks, but to help you succeed in competition, and choosing the right fit is essential to this success.
Serious competitors and those who train multiple times a week likely have a gi for all occasions, and not only can this help you fit into whatever the conditions, it prolongs the life of your garment as well.
Considering you may need more than one in your closet at once, it's even more important to get it right.
With our recommendations for the best gis in all shapes, sizes, and categories, you're guaranteed to get one that can help you excel.
Even beginners will be able to improve their performance once they're equipped with their very own gi, and seeing just how affordable some of the better brands can be, there should be nothing stopping you.
With a quality gi worn in competition and training, you'll be able to hone your skill and technique, as the garment famously takes away from the speed of you and your opponent.
This is the true way to test your merits as a martial artist and there's no better way to feel like an expert fighter than with a worthy BJJ gi call your own.
---
Recent Posts