Finding the right gift for a martial artist can be difficult, especially if you don't know much about what they do in training.
Many ideas range from boring to bizarre, but only a few mixed martial arts gift ideas could make the perfect present.
Let's check some MMA gifts.
Best Gifts For MMA Fighters
Here are some of the best gifts for MMA fighters. Some of these items are small and don't take up too much space; they're perfect for any occasion.
1. The Ultimate MMA Gift: The Thrill of Live UFC Action
---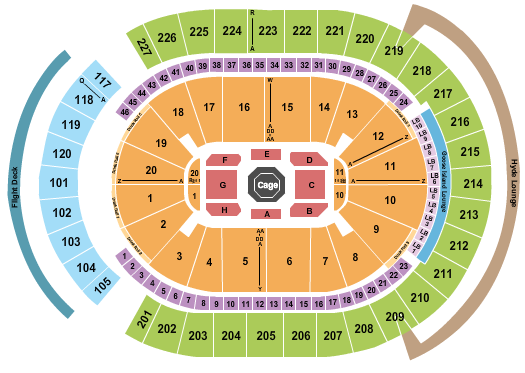 UFC 296: Edwards vs. Covington
from: ScoreBig.com
---
A UFC ticket isn't just a gift; it's an unforgettable experience. It's the ultimate way to show appreciation for an MMA lover.
Each ticket offers the chance to be part of a historic moment, feeling the thrill and excitement of a UFC fight.
UFC tickets come with a premium price tag, but they provide an unforgettable memory that will be cherished for years to come. So, if you want to elevate your gift-giving game, choose a UFC ticket for your favorite MMA fan.
2. Punch Trackers
---
Punch Trackers are some of the most reasonable mixed martial arts gift ideas you will find. Punch trackers are small, lightweight, and compact. Furthermore, it can be worn on your wrist or ankle.
They record the number of punches thrown by the wearer in a boxing training session.
This gift is great for newbies to MMA, but also works well for established fighters looking to stay in shape during training camps or times when they're not fighting.
3. UFC Funko Pop
UFC Funko Pop is a great gift for hardcore UFC fans. They come in a variety of sizes and can be bought in sets. Funko pops are fun, affordable, and can be found in your local store or online. They're a cool way to show passion for the sport at the office or at home.
However, they might be best for someone in touch with their geeky side.
4. MMA Octagon Necklace
The MMA Octagon necklace is a great gift idea for anyone that has MMA as a lifestyle. It's meant to represent the octagon that fighters train in and have a decent amount of sentimental value.
The best part about this gift is that you can personalize it for a fighter to their name, nickname, or even a professional fighter's nickname if they have one.
5. Deep Tissue Massage Gun
Deep tissue massage guns are another great gift idea that can help relieve tight muscles. They work on the same principle as a foam roller but as a more powerful version.
Deep tissue massage guns are more convenient and effective than foam rollers, and they come in a variety of sizes and price points.
They come with different attachments for each part of the body, including arms, legs, and feet. The best part about deep tissue massage guns is that they're portable and can be used at home or anywhere you feel like it.
6. MMA Gym Bag
MMA gear backpacks are another functional gift idea for MMA fighters. You can find them at several online stores in a variety of styles, colors, and sizes.
They're very affordable at around $40 to $80, and they're perfect for carrying gear during training camps or everyday life.
The best part about this gift is that it's very functional and sporty looking. It will help carry your fighter's equipment safely and make sure everything stays organized.
7. Hybrid MMA Gloves
Hybrid MMA gloves are another great option. These gloves are versatile enough to be used for boxing, Muay Thai, wrestling, or grappling without sacrificing too much in any specific area.
The glove can be adjusted to work with the fighter's style of martial arts and have a good amount of padding.
However, they might be only suitable for light sparring because they're not as padded as 16 oz boxing gloves. Hybrid gloves might not be the best option for a beginner, because they don't have enough control to land light punches during training.
don't miss the Best boxing gloves TO give as a present
8. MMA Compression Shorts
Mixed martial arts compression shorts are one of the most practical mixed martial arts gift ideas out there.
These shorts are made of spandex and can be worn under MMA shorts for extra support, or alone to help improve the wearer's mobility and comfort.
If you want to dig deeper into MMA compression shorts, we have a full guide with some of the best options in the market here.
9. Mixed Martial Arts Rash Guard
MMA Rash Guards are a great way to protect the wearer from rashes and scrapes from the mat. They're lightweight and stretchy, so they won't get in the way of any mixed martial arts training, and they also help keep wounds from getting infected.
They come in a variety of colors and styles at a wide range of prices. A great budget brand is Elite Sports. If you're willing to invest more money in the gift, brands like Fuji, Venum, and Hayabusa are some of the best out there.
10. BJJ Hand Tape
BJJ Hand Tape is a great mixed martial arts gift idea that works in two ways:
It stops hand injuries.
Helps improve grip strength and flexibility.
You can buy this in a variety of colors, but the most common are white and black. They make a great gift because they're inexpensive and any grappler (especially with Gi) would love them.
11. Mouthguard
Mouthguards are a great gift idea for anyone who practices MMA, even if they aren't a beginner. The most comfortable to wear is the classic "boil and bite" mouthguard you can get at any sports store.
They're not very expensive, so this is a very practical present. The best part is that you can customize it to your fighter's favorite color or design.
12. Hand Wraps
Hand Wraps are a great gift idea for any mixed martial arts fighter because they can help prevent or reduce hand injuries. They're made of spandex and stretch over the hands lightly without being too tight.
They are inexpensive, lightweight, and essential for everyone during sparring sessions or regular classes.
13. A Cool Martial Arts Book
A book is a great gift idea for anyone, especially for the MMA crowd where there's an infinite amount of techniques to master.
Getting stuck in a rut in training is inevitable, but there are many books out there that can help. Mixed martial arts books are available at most bookstores and can be found on Amazon.
Some interesting martial arts books are:
Gifts don't need to be expensive to be special, and these gifts will surely put a smile on your fighter's face.
14. UFC/MMA T-shirts
UFC/MMA T-shirts are a great gift idea for anyone who loves the sport. They're lightweight and comfortable and come in a variety of sizes. The material can range from cotton to polyester, but it doesn't matter what kind, as long as they're comfortable.
They can be customized to your fighter's name or nickname, or to their favorite fighter like Conor McGregor, Adesanya, Jon Jones, etc. Mixed martial arts t-shirts are one of the best gifts you can give.
15. MMA or Combat Sports Posters
MMA or combat sports posters are a great gift that can liven up any room. They remind us of the most iconic moments in the history of the sport. They're affordable and there are plenty of choices out there.
UFC has an entire collection of posters featuring the best fighters in the world, which you can find here.
16. Foam Roller
Foam rollers are a great gift to help relieve tight or sore muscles. They're great for relieving tension in the back, shoulders, calves, hamstrings, quads, and glutes.
A foam roller can be used virtually anywhere to help loosen up a fighter's body. Foam rollers come in a variety of sizes and make an excellent present for MMA fighters or other combat athletes.
Anyone who gets too caught up in their training might be able to use this product for their everyday lives as well.
17. Fitness Tracker
Fitness trackers are a great gift for any MMA enthusiast as it helps them keep track of their workouts. They're stylish, somewhat affordable, and helpful to the fighter that has a hard time remembering everything about their training.
They also have a variety of functions so you can use them for counting reps, time spent training, distance walked or ran, calories burned, etc. The best thing about this gift is that it's very useful.
They tend to have a sportive appearance. However, brands are starting to create more casual-looking designs that work well in a wide range of situations.
18. Weighted Jump Rope
Weighted jump ropes are the gift that keeps on giving. You can use this to improve your speed, timing, rhythm, coordination, and balance. Jumping rope is a fundamental part of any fighter's training because it helps increase stamina and endurance.
The best part about them is that they're affordable and come in a variety of weights ranging from 1 to 5 pounds. They are convenient to take anywhere because they are lightweight and take up very little space in your bag or car trunk.
The best one you can get is the Crossrope system. It is pricey, but the quality is top-notch. I got it about 4 years ago and is still working and in perfect condition. Other brands are cheaper but will break in a few months.
19. BJJ Or Striking Instructionals
BJJ and striking instructionals are a great gift idea for anyone that loves Brazilian Jiu-Jitsu or boxing.
They come in different forms and teach the fundamental moves in BJJ and boxing respectively. They also feature the most iconic moments from MMA fights which make them an interesting gift for hardcore fans.
At websites like BJJFanatics, you can find a variety of BJJ and striking instructional titles
20. Exercise Ball
Exercise balls are great for MMA fighters, especially if they spend a lot of time training alone. They help strengthen your core and improve balance and stability. They come in different sizes and can be found at most sporting goods stores or Amazon.
21. A Month Of Their MMA Gym Fees
You can purchase months of gym fees for your fighter's training sessions. This is a great gift idea because it shows your interest in their well-being and the future health of their body. Gym fees can get expensive in certain areas.
It also helps incentivize them to train more often because they know they're getting support from someone they love. The best part about this gift is it's useful and has great value.
22. Recovery Sports Massage
---
Rehabilitation massage is a great gift idea for anyone that loves taking care of their body. It helps ease the tension from workouts and helps promote rest and recovery. Furthermore, it helps get rid of any pain or aches that come from hard training sessions.
A massage skilled therapist can work on the back, neck, shoulders, arms, and legs to help restore the body's natural movements and improve mobility. You can find various types of sports massages at prices ranging from $100 to $150.
Is not the cheapest gift but top professionals are worth it. A cheap sports massage can damage tissues and leave someone with more pain than before.
23. Nutritional Evaluation
---
Nutritional evaluations are a good gift idea for any MMA fighter or anyone interested in nutrition. They are personalized to meet the health needs of the person who receives them.
This unique plan is created with their goals in mind, whether they want to lose weight, gain muscle mass, or just maintain their current physique. A nutrition specialist can also help to make the weight-cut process somewhat more comfortable.
Top Gifts For MMA Fighters By Category
---
Experiences
When it comes to gifts and presents for Mixed Martial Arts fighters, the best possible option would be to give them an experience. Experiences are something that can never be bought or replicated.
The person will never forget when they got that specific experience and share it with others in the future.
Gadgets
Gadgets can be an excellent present for Mixed Martial Arts competitors. These are small tech pieces designed to improve training or gain further insight into data-driven training decisions.
Everything from a premium HIIT app to a fitness tracker should be on the list!
Training Gear
Training gear is a great gift for MMA fighters because it wears out after years of training. They can never have too much training gear and it is something that will definitely help them with their training.
If you know the fighter, then you should definitely think about getting them some new training gear!
Clothing
Clothing is a good gift as well. The clothing can be as general as athletic clothing or as specific as a specific Mixed Martial Arts brand. Simply remember that you should never buy them clothing that they will not like and instead, get them something custom made!
Decoration or Jewelry
Clothing or a decorative item is a good idea if you do not know the fighter very well. However, if you know them well enough, I would suggest getting them around 70% training gear and 30% something decorative or jewelry-related.
Final Thoughts About Mixed Martial Arts Gift Ideas
There are tons of different gift ideas for anyone who loves MMA and training. The important thing is to know what your fighter likes, and go from there.
The best gift ideas will be something they can use every day but also show their love of the sport as well. It doesn't matter if you buy a $30 or $300 gift as long as you put thought into it and your fighter enjoys it. Then that's the perfect present!
Recent Posts