Your Jiu-Jitsu Gi is one of the most important investments you'll make in your BJJ career.
Although you will need to invest upfront to get a good Gi, if you buy the right high-quality BJJ Gi, it can last you for years.
In terms of the best Jiu-Jitsu Gi on the market, we firmly believe that the Elite Sports Core BJJ Gi is hands-down the best all-around BJJ Gi for the vast majority of Jiu-Jitsu practitioners.
Finding a good Gi can be tough as there are so many out there to choose from. Even the pros are really picky with their Gi as there's just so much to consider when buying one.
In this MMAWhisperer gear review, we look at the following aspects of the Elite Sports Core BJJ Gi:
Durability, weave, and comfort
Price and quality
Pros and cons of the Elite Sports Core BJJ Gi
How to choose your BJJ Gi
Once you finish the article, you'll know the inside scoop on why we recommend the Elite Sports Core BJJ Gi.
Let's begin!
Best Gi For The Money – Elite Sports Core BJJ Gi
---
The Elite Sports brand is a trusted name in martial arts when it comes to high-quality Gis at fair prices.
The most affordable Gi from Elite Sports is the Elite Sports Core BJJ Gi. It's easily the best bang for your buck across the entire BJJ Gi industry.
Aside from being affordable, the Elite Sports Core BJJ Gi is surprisingly durable. Some users say it holds its ground against the top expensive brands.
We've been personally testing this Gi for more than two years. And we can stand behind that statement.
The Elite Sports Core Jiu-Jitsu Gi balances weight, protection, and mobility in one package. That's very hard to find in Gis that doesn't break your wallet.
When it comes to tips and tricks for Jiu-Jitsu, a good, comfortable Gi is an absolute must.
The Elite Sports Core BJJ Gi features a pearl weave which makes it ready for both competition and training.
The Elite Sports Core BJJ Gi Stands Up Against More Expensive Brands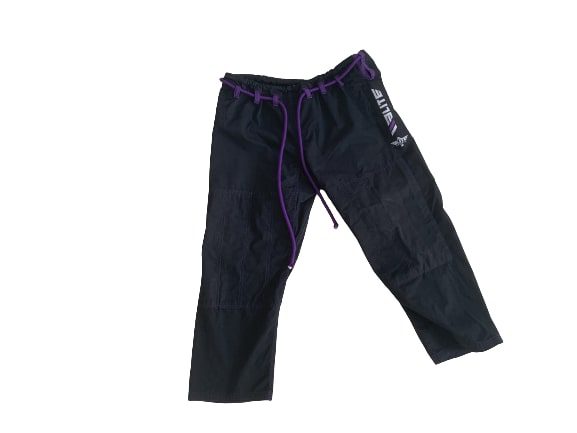 The lightweight fabric does not restrict movement during fast-paced grappling, and if you struggle with certain conditions like training BJJ with asthma, the lightweight fabric may be helpful.
The pearl weave also offers incredible durability and will stand the test of time. That Gi in the picture is almost three years old. Gustavo, one of our writers, used it 3-4 times a week for an entire year before adding another to his Gi arsenal.
Since the Gi is less abrasive from the clean weave, you will be less susceptible to getting ringworm from BJJ.
The Elite Sports Core BJJ Gi also comes in a wide range of colors to suit your preference.
For men and kids, you can choose between the traditional black, white, and blue colors. Additionally, you can find navy blue, khaki, brown, gray, camo, yellow, and red.
The women's color selection includes black, white, red, and purple.
If you ask us, the best color option is black.
The Elite Sports Core Black BJJ Gi features deep colors that don't wash out too quickly.
However, as with any dyed Gi, the color can start to fade a bit after 3-6 months.
When buying The Elite Sports Core BJJ Gi, don't go a size above you. The Gi in the picture is a size A4 and the guy in the picture is about 6'2″ (187 cms) and about 191 pounds ( 87 kilos). An A3 Gi from Elite would fit him better.
The Gis are made from pre-shrunk fabric, so you don't need to worry about shrinking after the first wash.
Pre-Shrunk Fabric Ensures Your Gi Fits You Out of the Box and After Washing
One thing that would be nice is a better size selection, as some users found it difficult to find a perfect fit. However, without a custom-tailored Gi, there is only so much to expect.
We also didn't love the placement of the knee reinforcement as it did not always line up with the knees in certain positions.
However, overall, these were just minor downsides and are hard to avoid unless the Gi is 100% custom.
Pros and Cons of the Elite Sports Core BJJ Gi
Pros
Very affordable for newbies
Durable materials
Great quality for the price
Includes free white belt
Cons
It could feel too hot in humid weather during rolls

Even the light version could feel heavier than other brands

The

fabric might feel rough on the skin without a rashguard
What Makes A Jiu-Jitsu Gi Different?
Gis aren't just used in Jiu-Jitsu. They're also used in Judo and Karate primarily.
Of course, there are a few differences when it comes to Gis for different martial arts styles.
Jiu-Jitsu Gis are thicker and more abrasive compared to Karate Gis. It makes them more suitable for grappling. Karate Gis are lighter so the wearer can move freely without the burden of heavy clothing.
The differences between a Judo Gi and a Jiu-Jitsu Gi are more subtle.
Jiu-Jitsu Gis is generally tighter around the cuffs on the pants and jacket.
The skirt section of the BJJ Gi is shorter as well. This leaves less clothing for you to maneuver around during dynamic grappling exchances.
Judo Gis are also larger which makes it easier to grab and throw opponents.
What To Look For In A Jiu-Jitsu Gi
Not all Jiu-Jitsu Gis are the same. If you want the best for your money, you're going to be more mindful about the products you buy.
Here are a few important factors to consider when buying a Gi.
Size
The most important thing to consider when buying a Gi is size. You don't want a Gi that's too loose or too tight as it can be a disadvantage to you in training and competition. The good thing is that Gi sizes are pretty straightforward.
Use this guide below:
| | | | | |
| --- | --- | --- | --- | --- |
| Size | Weight | Height | Jacket Measurement | Pants Measurement |
| A0 | 132 – 155 lbs60 – 70 kg | 5'4″ – 5'6″162 – 168 cm | Wingspan: 157cmLength: 74cmChest: 53cm | Waist: 50cmHips: 54cmLength: 94cm |
| A1 | 154 – 170 lbs70 – 77 kg | 5'5″ – 5'7″165 – 170 cm | Wingspan: 158cmLength: 75cmChest: 54cm | Waist: 54cmHips: 58cmLength: 96cm |
| A2 | 170 – 192 lbs77 – 87 kg | 5'7″ – 5'10"170 – 178 cm | Wingspan: 165cmLength: 78cmChest: 56cm | Waist: 56cmHips: 61cmLength: 99cm |
| A3 | 192 – 220 lbs87 – 100 kg | 5'10" – 6'2″178 – 188 cm | Wingspan: 170cmLength: 82cmChest: 61cm | Waist: 59cmHips: 64cmLength: 102cm |
| A4 | 220 – 253 lbs100 – 115 kg | 6'1″ – 6'4″185 – 193 cm | Wingspan: 178cmLength: 86cmChest: 65cm | Waist: 62cmHips: 67cmLength: 106cm |
| A5 | 253 – 287 lbs115 – 130 kg | 6'2″ – 6'5″188 – 195 cm | Wingspan: 187cmLength: 90cmChest: 68cm | Waist: 64cmHips: 69cmLength: 109cm |
| A6 | 287 – 320 lbs130 – 145 kg | 6'4″ – 6'7″193 – 200 cm | Wingspan: 192cmLength: 92cmChest: 72cm | Waist: 67cmHips: 72cmLength: 112cm |
Weave
Simply put, the weave of your Gi determines how expensive, how durable, and how heavy it can be.
Gis come in a wide variety of weaves and it's important that you know which is which.
Single Weave – A light and cheap Gi that's great for beginners. Also great for summer training since it's lightweight. It's also easier to grab since it's thinner.
Double Weave – Double the weight and thickness of the single weave. Can retain heat very well so it's not good for training or competing in warm temperatures.
Gold Weave – The former standard for competitions. It comes with the lightness of the single weave and the durability of the double weave as well.
Pearl Weave – A very light weave that's popular in competitions. It's also the most popular because it's still very durable despite being light.
Ripstop Weave – The lightest weave around right now. It's a lot easier to grab because of its thinness. It gets its name because it can stop tears from going through your entire Gi.
As mentioned, the Elite Sports Core BJJ Gi comes in pearl-weave, which is a good standard, durable Gi fabric style.
Weight
The weight of your Gi is very important, especially if you're planning to compete. Remember that you'll be weighed in with your Gi on before a competition.
Gis usually weigh somewhere between 2 to 5lbs.
Many pros argue that it's best to wear a heavy Gi even when training.
This helps you lose weight a lot faster through increased sweat. The thick material also develops more grip strength.
The exact weight of the Elite Sports Core BJJ Gi varies with size, but the heaviest is roughly 5lbs.
Color
Color boils down to personal preference. However, there are two things that you need to consider.
First off, most competitions generally allow only blue, white, and black Gis. If you're just going to train BJJ, you can get any Gi color you want.
Another thing to consider here is how well the Gi color ages.
White doesn't age very well and can get permanent stains over time. If you want something that lasts longer, go for a black or blue Gi.
As mentioned, you have tons of color options when buying the Elite Sports Core BJJ Gi, so it really is a matter of your choice.
How Many Gis Should I Buy?
This answer depends on a few factors: how much you train and whether you compete.
If you plan on training more than 3 times a week, you need at least 2 Gis.
If you're training twice a day, then you'll need to go with at least 3-4 Gis.
Remember that Gis don't dry quickly after being washed, and you need to wash it every time you train.
Also, bear in mind that some Gis are not compliant or suitable for competition as well. As such, pros would suggest having at least 2 training Gis and 1-2 competition Gis.
Be Sure to Own Competition-Compliant Gis If You Plan to Compete
Given the affordability of the Elite Sports Core BJJ Gi, you should be able to get a few pairs to round out your BJJ wardrobe.
The Best BJJ Gi For The Money – Final Thoughts
When it comes to the best BJJ Gi for your money, we believe that the Elite Core BJJ Gi is the one you should buy.
It's great for BJJ beginners, and it's affordable too.
It's not as pricey as other high-end Gis but it still fits the bill pretty well.
Recent Posts