The popularity of MMA has only continued to rise in recent years, and one of the reasons the combat sport has gained so much traction is due to the serious abilities of its athletes.
Mixed martial artists are known as some of the strongest, fastest, and highly skilled sportspeople on the planet and many of that is thanks to their intense training schedules.
For most of the famous fighters you've heard of, they have spent a lot of time at the best MMA gyms in the world working on their skills.
These training facilities are dedicated to mixed martial arts and have made a name for themselves as the place to be if you're even considering taking your practice to the next level.
So, what are the best MMA gyms in the world?
The greatest MMA gyms can be found in all corners of the globe, including Novo Uniao in Brazil, Tiger Muay Thai in Thailand, and Kings MMA right here in the US. Depending on your specialty and the type of training you want to undertake, there is a gym out there to help you achieve it.
For a high-level athlete, visiting a training facility or gym dedicated to their chosen sport can be akin to a trip to Disneyland for a child, and these are likely on the bucket list of many MMA wannabes.
If you've always dreamed of visiting the best MMA gyms the world has to offer, we've got the definitive list of those you can't miss.
If you'd like to see a graphical breakdown of the best MMA gyms, we got you covered:
Share this Image On Your Site
The Best MMA Gyms in the World
As the world's obsession grows with MMA, so too do the number of gyms and training centers dedicated to the sport.
No matter where you are on earth, you'll be able to find a mixed martial arts gym close by, and if you're lucky enough, you'll be close to these that made our list of the best in the world.
#1: Xtreme Couture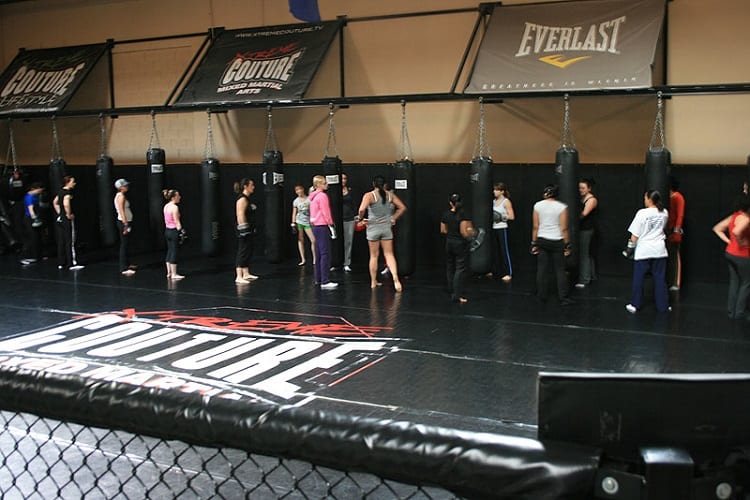 It should come as no surprise that Las Vegas is home to some amazing mixed martial arts gyms, given their status as the fight capital of the USA. However, none come close to the fame that Xtreme Couture has gained, which is amazing for a facility not yet 20 years old.
Among some of the great fighters who have been produced here are Randy Couture, Gray Maynard, and Forrest Griffin. If you're too far from Nevada, you can check out the Xtreme Couture Gyms in Ontario and Florida, although none come close to the original.
#2: Nova Uniao
When you're in Brazil and want to get serious about MMA, nothing comes close to Nova Uniao. This famous fighting facility was started in 2008 and today, has a world-class team behind it with names like Jose Aldo Jr and Renan Barao, just to name a few.
Nova Uniao has become so famous that it's sprouted up all over the world, and to date, there are over 40 different countries that have one of these gyms to call their own.
Their instructors and coaches are proficient in all aspects of martial arts and have a reputation for being one of the fiercest competitors out there when it comes to MMA camps.
#3: Tiger Muay Thai
When you want to visit the home of Muay Thai, nothing beats the original, Tiger Muay Thai in Phuket. Although originally started just to develop this form of boxing, it's now known as one of the most varied gyms in the world.
In addition to having world-class trainers and instructors, Tiger Muay Thai is open to the public, and they have fitness classes multiple times a day.
This is the perfect place for a beginner to get their foot in the door without sacrificing quality, and if you have a specific interest in Muay Thai, there's nowhere better for it.
#4: Straight Blast Gym
Although Ireland isn't the first place you think of when coming up with MMA gyms, Straight Blast Gym in Ireland needs to be mentioned.
Made famous by Ireland's biggest export, Conor McGregor, the gym has long had a stellar reputation by those who know a thing or two about fighting.
Straight Blast Gym was founded by John Kavanagh and is home to some of the world's best fighters from all competitions including UFC, Cage Warriors, and Bellator.
Teaching all aspects of mixed martial arts, the Dublin gym is the place to go if you show the promise and talent of the greats that have come before you.
#5: Jackson's MMA
As the name suggests, Jackson's MMA is a gym dedicated to martial arts, and it was first opened by Greg Jackson in 1992.
The gym is located in Albuquerque, New Mexico, and is world-famous not only for its teaching facilities but the names that have graced its quarters in the past.
Within this gym, there's no shortage of teachings on offer, with BJJ, kickboxing, wrestling, condition, and submission fighting, just to name a few.
The facilities are open to the public so you can build skills in every area, once you have a membership. Jackson's MMA is famous for producing nine world champions and counting, including Jon Jones and Rashad Evans.
#6: Black House MMA
If you want one of the most famous mixed martial art camps to be your stomping ground, you'll want to head to Black House MMA. The original Black House MMA was founded in Rio De Janiero, and today has camps in Los Angeles, San Diego, and Brazil.
This training facility covers all aspects of MMA, but they're most notable for their BJJ, Muay Thai, Savate, and American wrestling teachings.
Among their most famously produced fighters are Anderson Silva, Jose Aldo, and Lyoto Machida, so you can be sure you're in the company of greatness.
#7: Kings MMA
Everyone in California knows the name Kings, whether you're an MMA aficionado or not, and it's a gym that has a very long waitlist to get into.
This training facility is known as one of the best camps the US has to offer and a top choice for the West Coast. For beginners, they offer a 12-week program that shows you the basics, and they welcome anyone to train there.
Kings MMA does things a little differently, and their main training is centered on kickboxing, BJJ, Muay Thai, and submission offense, but they excel in these areas. Their team of famous fighters includes Anderson Silva and Fabricio Werdum, so they're nothing to sneeze at.
#8: American Top Team
American Top Team is known for delivering some serious fighters to the main stage, and have consistently produced winners since it was first opened in 2001.
The South Florida gym is located in Coconut Creek and boasts world-class training in everything from BJJ to kids self-defense classes
American Top Team was developed by Dan Lambert who had members of the Brazilian Top Team help him start things off, and today it's bloomed into its own.
Their current list of champions includes Thiago Silva, Antonio Silva, and Mike Brown, and there's room for absolute beginners to get their turn as well.
Related Questions
Being able to train in a top-notch MMA gym is something that most can only dream of, but something that can be achieved with dedication and skill.
If your goal is to become an MMA champion as well, there are some basics you need to learn first. Check out our answers to some commonly asked questions that can give you the insight you're after.
How Do You Join an MMA Gym?
The best way to join an MMA gym is to check out those near you in your local area to see what they offer.
Like other fitness clubs, most MMA gyms have an introductory trial class or period so you can determine whether it's a good fit for you and investigate the equipment, instructors, and training schedule they have.
What is an MMA Gym?
An MMA gym is one that teaches classes and private lessons in different fighting styles and schools of martial art.
In these training facilities, you'll also be able to build on strength and cardio with weights, fitness equipment, and classes designed to condition you for the physical requirements of MMA.
What Gear Do I Need to Learn MMA?
If you want to build your own MMA gym at home rather than joining one, you can purchase some basic gear for less than $500.
The starter gear you'll need includes boxing gloves, a wrestling dummy, a heavy bag, and jump rope. From there, you can add more advanced equipment as your skills progress.