Brazilian Jiu-Jitsu allows you to learn how to defend yourself, practicing an activity that works your whole body.
Some use it as a workout, some use it as a method for stress relief, and some others can't explain just why they can't live without it.
The interest and love for BJJ don't exclude anybody; with the rising popularity of the discipline and sport, we have heard about more celebrities that train BJJ.
Let's dive into a list of BJJ-loving celebrities, including casual practitioners, active athletes, and even mat sharks and black belts that we can find along with Hollywood-level stars.
---
1. Demi Lovato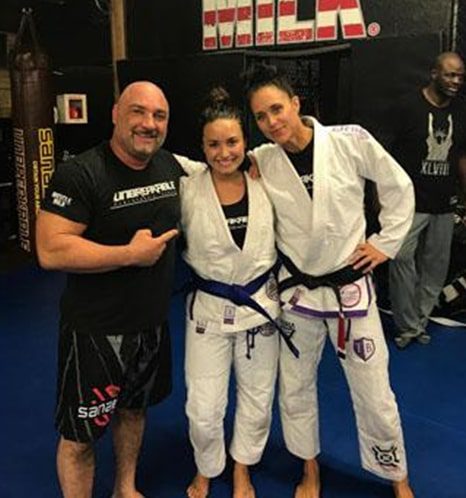 Demi Lovato gained notoriety thanks to Disney, which helped her continue her work as an actress and music career.
Less known is that she has a Blue Belt in BJJ, which she got in August 2017 after a year of training.
On the Joe Rogan Experience podcast, she mentioned that she had to stop when COVID-19 hit, but she is eager to continue training.
---
2. Teri Reeves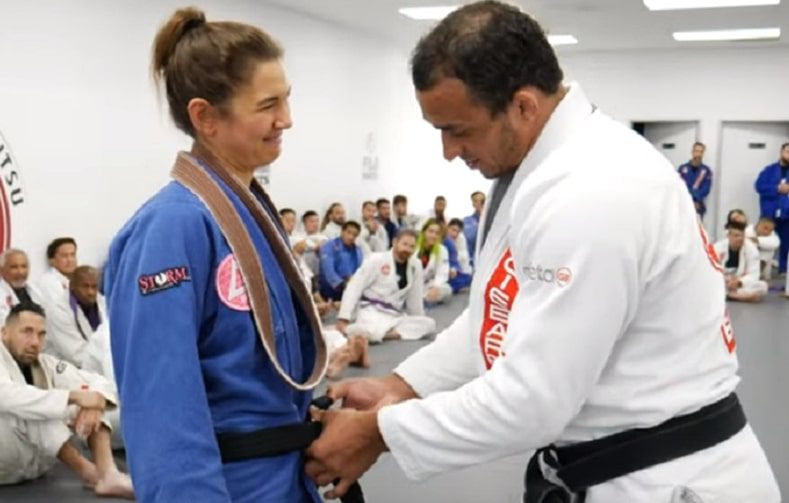 Teri Reeves is an actress known for her work on multiple successful TV shows, including Chicago Fire and The Punisher.
She trains Jiu-Jitsu at Gracie Barra jiu-jitsu School in California and holds a Black Belt under Professor Romulo Barral.
3. Halle Berry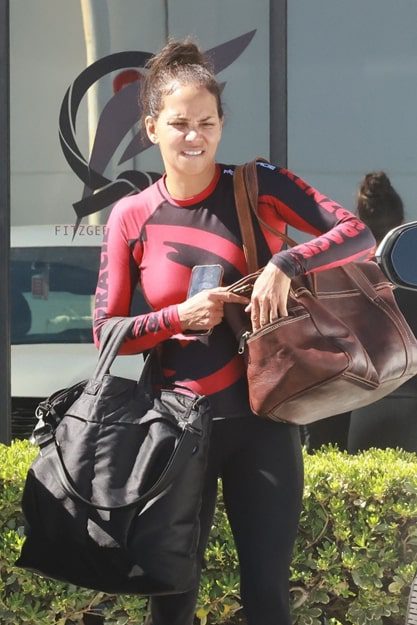 Halle Berry is another celebrity that trains BJJ. She was seen initially training Brazilian Jiu-Jitsu and MMA for some of her movie roles, including John Wick 3 and the 2020 film "Bruised."
Bruised is a film directed and produced by Halle Berry. It focuses on the comeback of an MMA Fighter named Jackie Justice.
The movie showcases how much work Berry has put on the mats, working with Brian "T-City" Ortega and Valentina Shevchenko for the film.
---
4. Mila Jovovich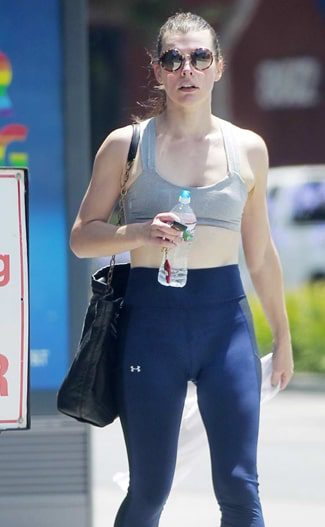 This woman has plenty of life skills aside from being a model and a Hollywood actress famous for multiple blockbusters, like the Resident Evil Series, the Fifth Element, and Monster Hunter.
The actress has reportedly spent countless hours training BJJ with the 10th planet's head honcho and founder, Eddie Bravo.
5. Naomi Watts
Naomi Watts, who the fans should know of "The Ring" and its sequel, has trained in judo for multiple years and even competed in amateur Judo Championships from 1989 to 1992.
She currently trains in Brazilian Jiu-Jitsu and judging from her background. She should be doing pretty well.
---
6. Rebel Wilson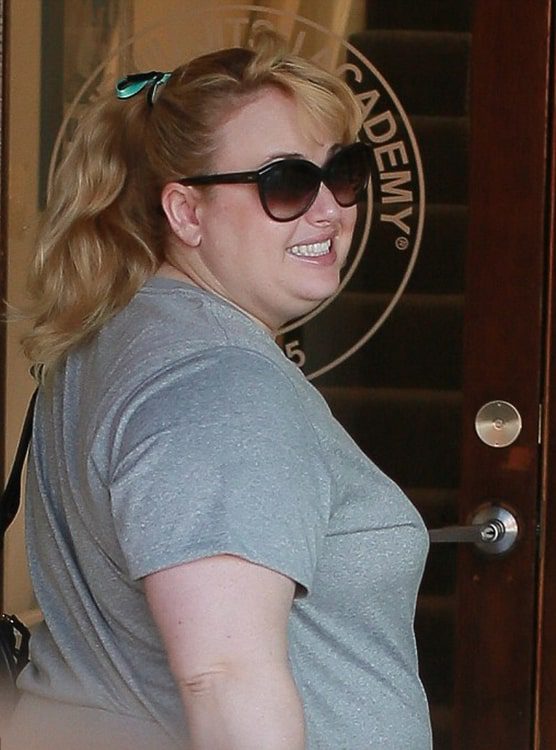 Over the last few years, Rebel Wilson, has been spotted entering the sacred hallows of a BJJ Gym.
She has been part of some great Hollywood movies, including the Pitch Perfect movies, Bridesmaids, and multiple comedic cameos.
With her recent weight loss, we hope she still practices BJJ as she keeps herself in excellent shape.
7. Margot Robbie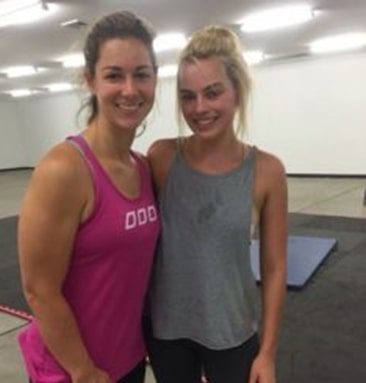 Margot Robbie has been in many blockbusters, like the Suicide Squad Films, the Wolf of Wall Street, and Focus.
Margot went through an intense training routine to portray Harley Quinn. Including gymnastics, trapeze, and BJJ three times a week.
8. Scarlett Johansson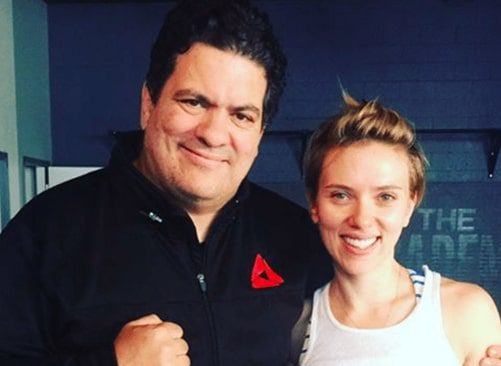 It's time to have a throwback to those flying submissions and throws that the Black Widow showcased in Iron Man 2 and The Avengers.
Scarlett trained a lot of MMA and BJJ to prepare for her role as Black Widow and continued to train years later.
She was training under Jean Jacques Machado.
9. Eve Torres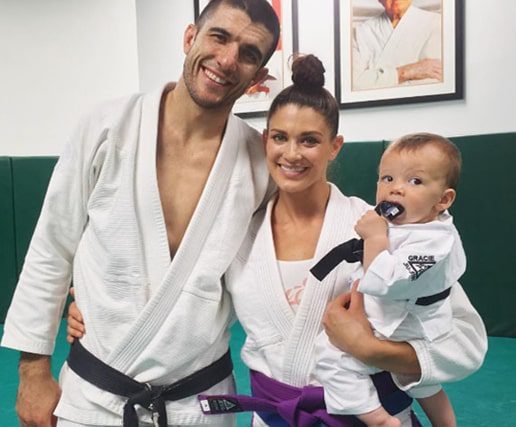 The former WWE Diva champion works with her husband Rener on their Gracie "Women Empowered" Self-Defense Program.
She has held a purple belt in BJJ since 2016, awarded by her instructor and husband, Rener Gracie.
10. Kate Upton
The "Sports Illustrated" swimsuit model Kate Upton took the time to demonstrate a rear-naked choke on Jimmy Fallon during her interview on The Tonight Show.
She became a hot topic on BJJ News for a while, and she even posted a picture on Instagram after receiving her first stripe on her white belt back in 2019.
11. Millie Bobby Brown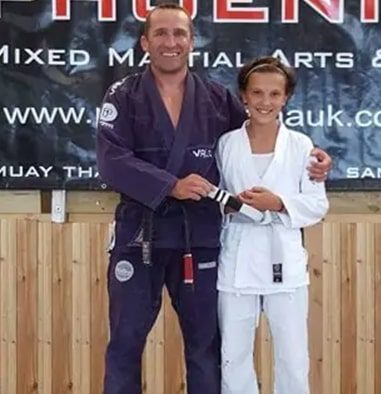 For those that do not know her, Millie Brown is a Spanish-born British actress, famously known for playing a little girl with psychic powers called "Eleven" (11), hence her placement in this list.
Her current belt rank is unknown, but Millie was awarded the 2nd stripe on her white belt at Phoenix MMA by her instructor Trevor Chamberlain back in 2016.
12. Ashton Kutcher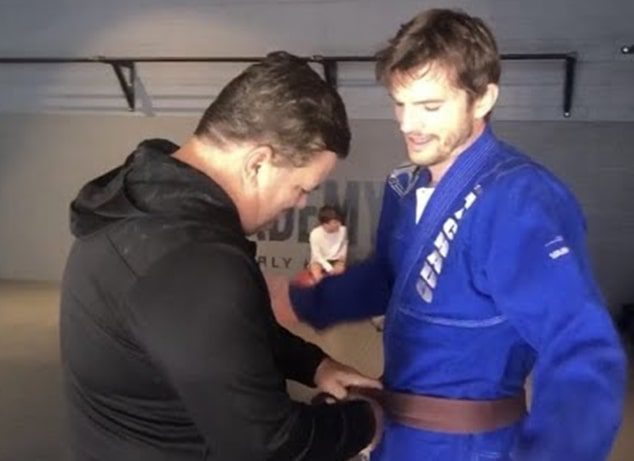 You likely recognize Ashton from "That 70s show" or movies like the butterfly effect and, more recently, the last season of two and a half men, but he has been on the mats for a long time now.
Ashton is near the top level of belt-ranked celebrities, as he has held a brown belt from his instructor, Rigan Machado, in 2019.
13. Keanu Reeves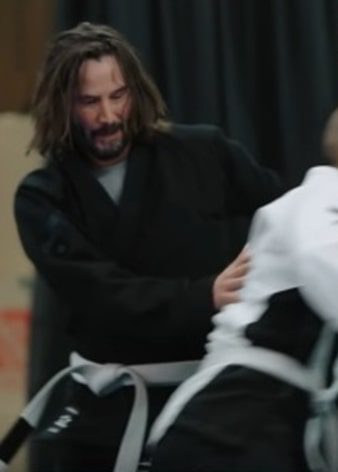 Neo, from The Matrix, John Wick, Constantine, and multiple other blockbusters are some of the projects that have placed Keanu on everyone's radar, and the fans love him.
Reeves is also known for training with the Machado brothers, who choreographed some fight scenes in influential movies like John Wick 1, 2, and 3.
Keanu trains with the Machado brothers in a do or die hyperfly gi and has been on the mats for a while, but we have no records of any promotions.
14. Russell Peters
Russell Peters has some acting roles in films and TV Shows, but the man is mainly known for his award-winning stand-up shows, including a couple of Netflix Specials.
He has a blue belt awarded by Jean Jacques Machado back in 2018.
15. Maynard James Keenan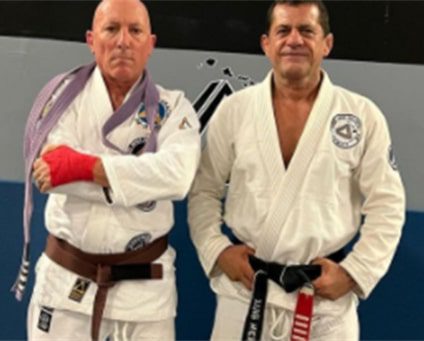 The singer from the band Tool and A Perfect Circle has been training for a long time.
It is said that he started rolling in the mid-'90s under Rickson Gracie.
He became a purple belt in 2015 and was promoted to Brown belt during the second half of November 2021.
There's footage of Keenan hip tossing and applying a rear-naked choke on a fan that rushed the stage of one of his shows.
16. Travis Barker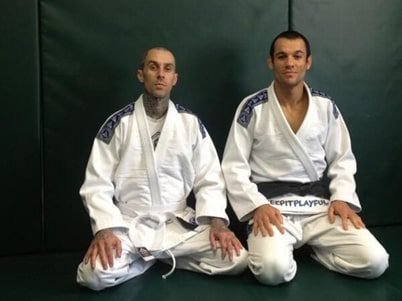 Travis is the drummer for Blink 182, and he spent some time on the mats in recent years, even talking about BJJ and his time on the mats on the Joe Rogan Experience.
As far as we know, he is a white belt who trains at Torrence Gracie Academy with Rener and Ryron Gracie.
17. Tom Hardy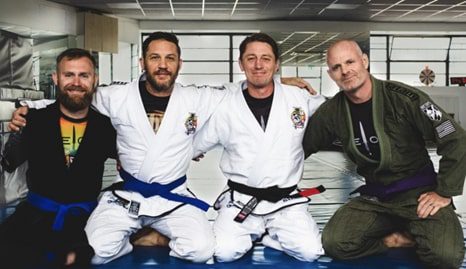 Tom Hardy has been in several blockbusters. Bane, Mad Max, Venom, and Tommy Riordan in the movie "Warrior" back in 2011.
Hardy was introduced to BJJ during his work on Warrior.
Around the end of 2020, he was spotted with a Blue belt alongside Royal Marines veteran and triple amputee Mark Ormrod.
18. Wiz Khalifa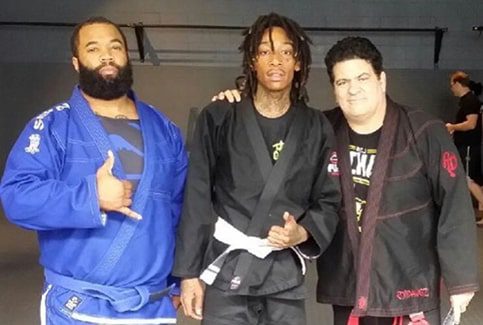 Rapper Wiz Khalifa is known for his billboard hits like Black and Yellow and See You Again.
He recently got into BJJ and MMA and gained almost 40lbs from his training and diet changes.
He got his first white belt stripe from Rigan Machado back around 2017, but we do not know his current belt rank.
19. Kelly Slater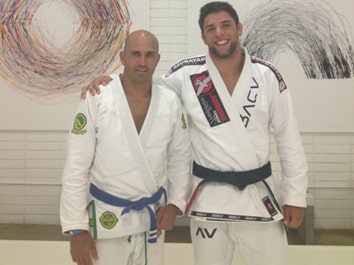 The Surfer and World champion Kelly Slater is a big BJJ fan.
He began training in California with Rickson Gracie and has been spotted on the mats at Mendes Brother's Art of Jiu-Jitsu in SoCal.
As you can see, he holds a two-stripe blue belt.
20. Joel Tudor
Another Surfer who is also into BJJ is the 2x World Longboard Champion Joel Tudor.
His BJJ accomplishments are as impressive as his surfing accolades.
He has been on the mats since 2003, holding a Black Belt under Rodrigo Medeiros.
Tudor captured gold at the Masters 1 Black Belt Division in the 2011 IBJJF Pan Ams.
21. Russell Brand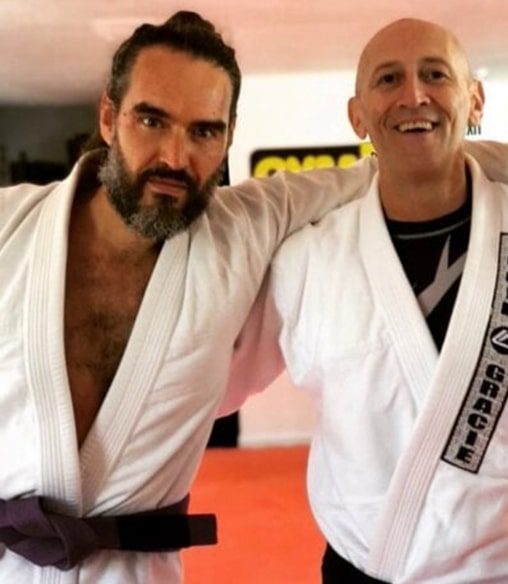 The British comedian, actor, and activist Rusell Brand is known for multiple projects and has a plethora of subjects to discuss in a good conversation, like the one he had at one pretty interesting JRE Podcast.
Brand received a purple belt from Chris Cleere in October 2021.
22. Joey "Coco" Diaz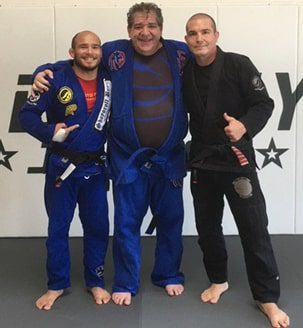 The American-Cuban Comedian Joey Diaz was awarded his blue belt by Alberto Crane, and he has spent time training with Eddie Bravo and Joe Rogan, who are his long-time friends.
23. Scott Eastwood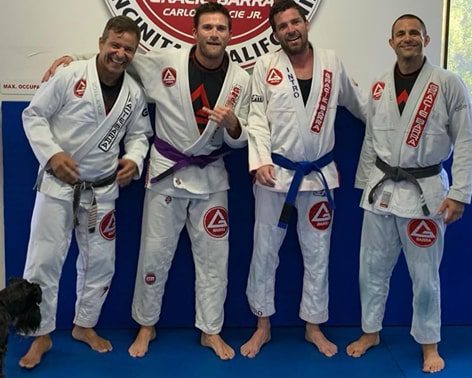 Clint Eastwood's son Scott is a Jiu-Jitsu lifestyle advocate. Scott has been a purple belt since 2019. He Trains at Gracie Barra in Encinitas, California.
24. Jason Momoa
Jason Momoa has an impressive physique, which helped him make a perfect Khal Drogo in Game of Thrones and quite the shocking live-action Aquaman.
Jason Momoa also trains Jiu-Jitsu and has been spotted on Instagram.
25. Charlie Hunnam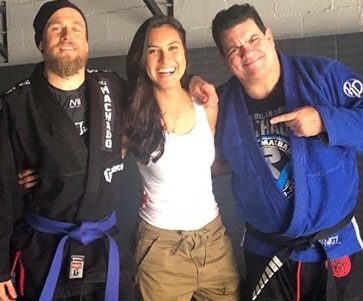 Charlie Hunnam is an English actor that you can see in Sons of Anarchy and has been in other films like King Arthur and Triple Frontier.
He has incorporated Jiu-Jitsu in his fitness routine since 2016, and he was pictured wearing a blue belt in August 2019.
26. Freddie Prinze Jr.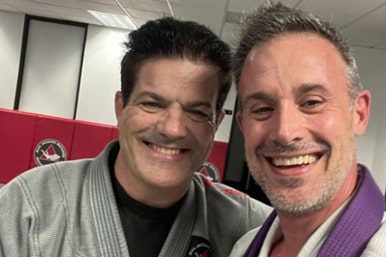 Actor and Voice actor Freddie Prinze Jr. is among the celebrities who not only practice but are devoted to Jiu-Jitsu.
In September 2021, Jean Jaques Machado promoted him to purple belt.
27. Ed O'Neill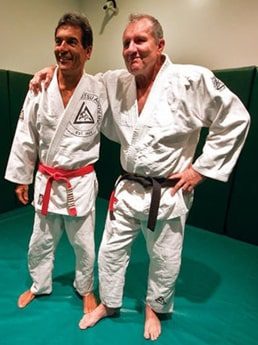 No BJJ celebrity list is complete if Ed O'Neill isn't mentioned.
Al Bundy from "Married With Children" or Jay Pritchett from Modern Family are some of Ed's faces on TV shows.
Ed is not only a BJJ Black Belt. He is also Rorion Gracie's only black belt outside of promoting his sons Rener and Ryron.
The man is the real deal.
28. Guy Ritchie
English film director Guy Ritchie is an absolute badass. Guy has been training Jiu-Jitsu for a long time.
He spent seven years on his brown belt before finally getting promoted by Renzo Gracie in 2015.
29. Clark Gregg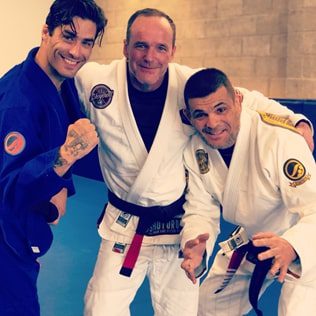 Believe it or not, the Marvel Cinematic Universe's Agent Coulson is a Black belt under Renato Magno of Street Sports BJJ.
It took him two years as a brown belt under Magno before getting his promotion.
30. Sean Patrick Flanery
Sean is probably the only one on our list who is also an instructor.
The Boondock saints star is a well-respected black belt, holding the rank of third-degree under Ricardo "Franginha" Miller.
31. Joe Rogan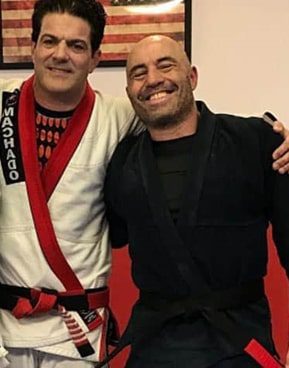 There was no way we would miss Joe Rogan on this list, as the UFC commentator and comedian has been one of the most dedicated people in placing BJJ in the spotlight.
He earned his Black Belt rank under Eddie Bravo in June 2012 and then reached the Black Belt level in the Gi under Jean Jacques Machado in September.
32. Chuck Norris
Chuck Norris once rolled with Helio Gracie, who put him to sleep, and his whole world was turned upside down.
The most dangerous man in the world trained all over the globe until he settled down with the Machado brothers to earn his Black Belt.
As of 2015, Chuck earned his 3rd Degree from David Dunn, under the guidance of Jean Jacques Machado.
33. Kevin James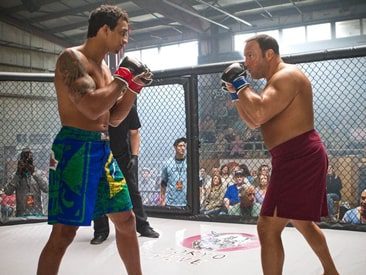 To prepare for his role in "Here comes the boom," Kevin James started training on the mats to get better at BJJ and MMA.
He then continued his training in Jiu-Jitsu under Romulo Barran.
34. CM Punk
The Wrestler took his training seriously and even managed to earn his blue belt ahead of his second match in the UFC.
35. Jonah Hill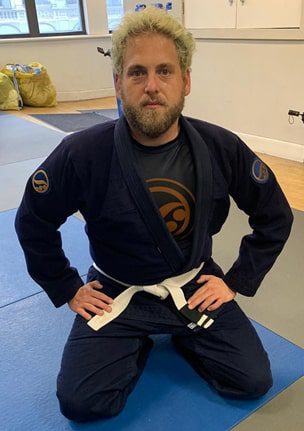 The comedian is known for his long acting run, from the comedy classic Super Cool to 21 Jump Street and "Don't Look Up" he started training BJJ three years ago and at one point was hitting the mats four times a week.
As shown in a video interview, he is a big fan of Shoyoroll Gis.
36. Dave Batista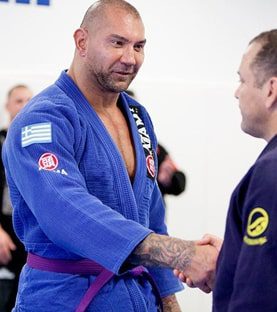 The former Wrestler, who now acts in the role of Drax in the MCU, and has multiple action bangers, including Army of The Dead, is a tough man on the mats.
He is a purple belt that you can find in Cesar Gracie's gym in Pleasant Hill, California.
37. Jason Statham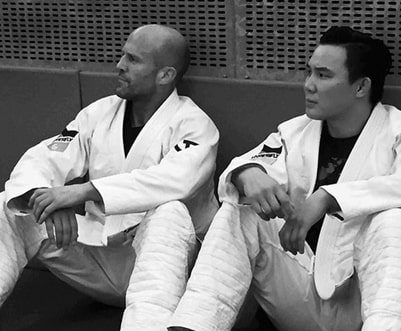 The man is known for action movie series like "The Mechanic," "The Transporter," "Cranked," and plenty of other action films. He is also an avid Jiu-Jitsu Practitioner.
As of 2018, he revealed that he had been inconsistently training for over ten years and was awarded a Purple Belt under Renzo Gracie.
38. Vince Vaughn
The comedic actor Vince Vaughn is famous for his roles in comedies like Wedding Crashers, Four Christmasses, and Dodgeball.
Over the years, Vaughn has trained at multiple BJJ academies as he traveled during his busy acting schedule.
Rener Gracie was the one to promote him to blue belt in 2018 after two years of training.
39. Scott Caan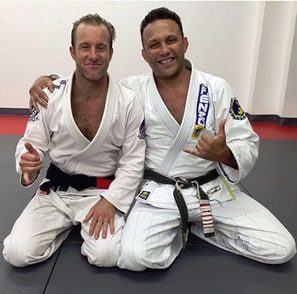 The Hawaii 5-0 actor is another OG Celebrity BJJ practitioner, and after 15 years of training, Egon Inoue of grappling unlimited gave him his black BJJ Belt.
40. Rahsaan Orange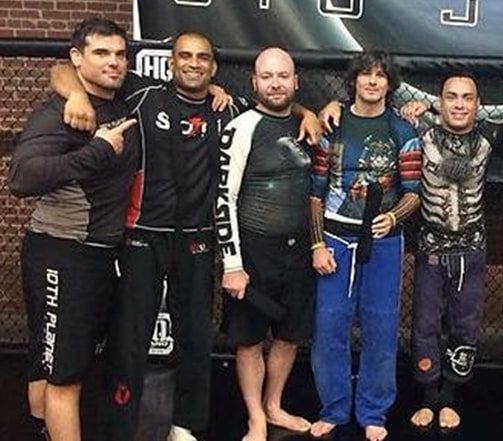 Rahsaan is an actor and comedian best known for portraying the fictional "Renato Laranja," the self-proclaimed 27-time world champion with a thick accent.
He never grappled professionally, but he is a black belt under Eddie Bravo.
41. Vin Diesel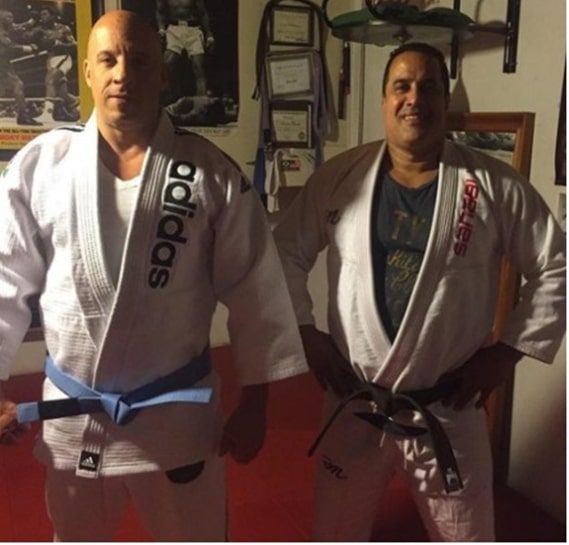 The man who plays the roles of Riddick, and Dom Toreto, has jumped from mat to mat in Hollywood, and he currently trains with the Machados under Regan.
As far as we know, he is a blue belt.
42. Steve Aoki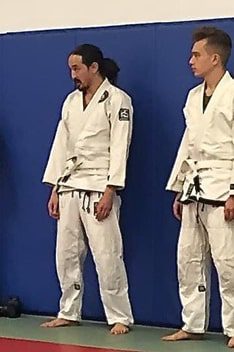 The House music producer Steve Aoki has been spotted at Saulo and Xande Ribeiro's University of Jiu-Jitsu and even posted a picture wearing his Gi on Twitter.
don't miss the Best bjj Gis
43. Synyster Gates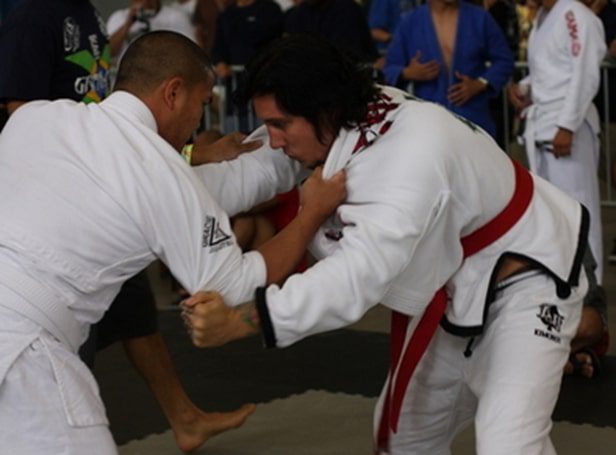 The guitarist for Avenged Sevenfold, Brian Elwin Haner Jr., trains BJJ in his hometown.
It seems like the trains at Cleber Luciano in Huntington Beach, CA.
We have no records of any promotion, but the picture came from grappling X in San Diego in 2009
44. Robert Duvall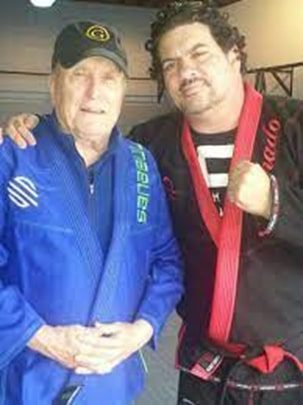 There are no records of his belt rank, but Robert Duvall has been training with Master Pedro Sauer alongside his wife, Luciana.
45. Jonathan Lipnicki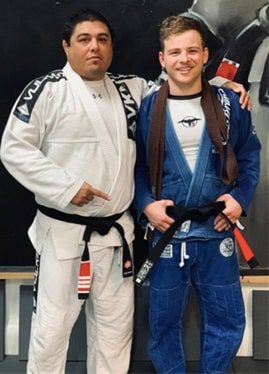 The child star of Jerry Maguire and Stuart little became a killer on the mats, regularly competing in local tournaments and IBJJF Competitions.
As of February 2020, he earned his Black belt training under Alan Zborovsky.
46. Henry Cavill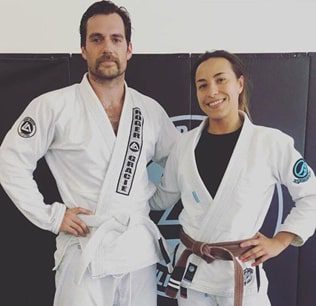 The "Superman" and "The Witcher" actor started his BJJ training to keep his skills sharp, training under the legendary Roger Gracie.
We can't find any information regarding belt promotions so far, but we are glad to have him on the mats.
47. Rikki Rockett
Rikki Rockett is tied for the highest-ranking belt on the list.
The drummer from "Poison" trains under Renato Magno at Street Sports Brazilian Jiu-Jitsu.
Rikki is also a competitor, as he competed at the Pan Ams in 2010, losing to Joao Crus.
48. Prince Jackson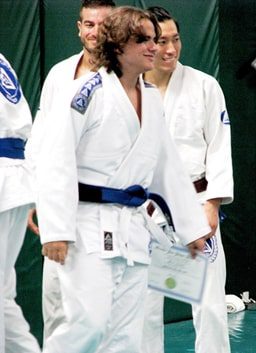 Michael Jackson's son training BJJ was a pleasant surprise for most of the community.
Prince regularly trains at the Torrence Academy. And he got his blue belt from Ryron Gracie.
49. Alain Moussi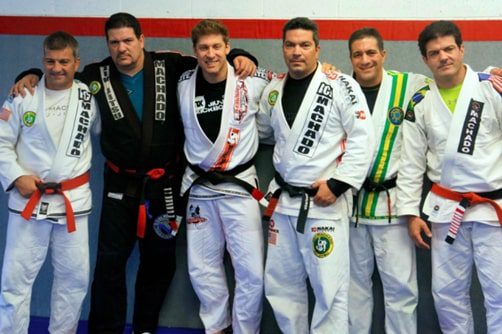 Alain plays Kurt Sloane, the main character of Kickboxer: Vengeance, initially played by Jean-Claude Van Damme, in the franchise's revival.
The Lebanese-Canadian actor is also on the Black belt tier of BJJ practitioners.
50. Anthony Bourdain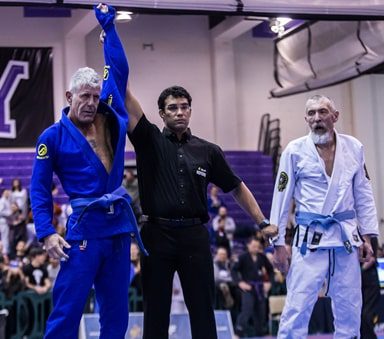 Anthony Michael Bourdain was an American celebrity chef, author, and travel documentarian who sadly passed away in 2018.
He was an avid BJJ practitioner, reaching the rank of blue belt and winning gold in his Master's division in the New York International Open.
51. Paul Walker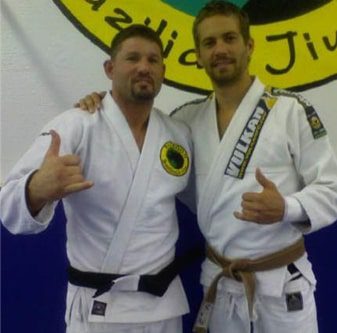 Paul was an action movie star who starred in the Fast and Furious Franchise but passed away in November 2013.
He was a brown belt under Ricardo "Frajinha" Miller at Paragon Brazilian Jiu-Jitsu.
He was also awarded a Black Belt posthumously after his tragic passing.
52. Steve Irwin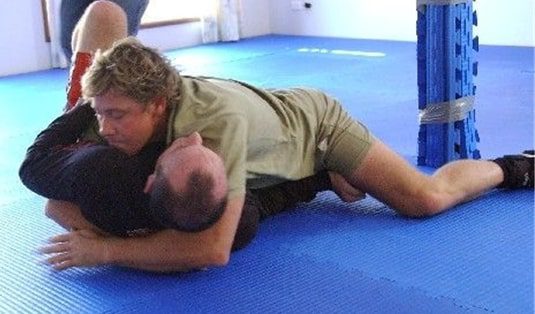 The crocodile hunter was also known for being a beast on the mats.
Steve used to train with Greg Jackson and was a Blue belt before his passing.
53. Michael Clarke Duncan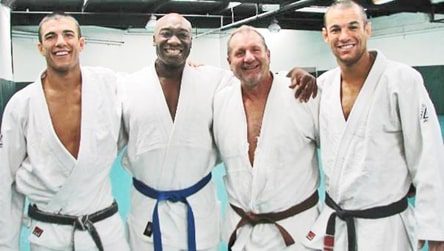 The Green Mile actor was known to be dedicated to the sport and regularly attended classes.
He trained with Ed O'Neal and was a blue belt when Ed was a Brown belt.
Michael reached the rank of purple belt under Rener and Ryron Gracie at their Torrance Academy before he tragically passed away.
Recent Posts