Since its inception in 1993, the UFC has given us some of the most incredible moments in combat sports, and attending one of these electrifying live events is a dream for any UFC fan.
But how much do tickets cost? UFC tickets can cost between $298 and $800 per seat. However, ticket prices will vary depending on seat type, who is fighting, and ticket demand.
By far, the most expensive UFC tickets are Octagon side, floor seats, or UFC VIP fan experiences, which cost thousands of dollars.
Generally, you will pay a higher average price per UFC ticket if you attend a numbered UFC event. UFC Fight Night events are, on average cheaper.
This comprehensive guide will give you all the strategies to land killer deals on your tickets, teach you how to spot and avoid scams and show you where to get UFC tickets safely.
Let's get to it.
Factors That Influence UFC Ticket Prices
UFC ticket prices are subject to the laws of offer and demand. There's a finite number of tickets available, and the more interest there's in the event, the higher the prices. Pretty simple. However, several other factors influence your ticket prices.
Here are some of the most relevant factors:
Fighter Popularity/Demand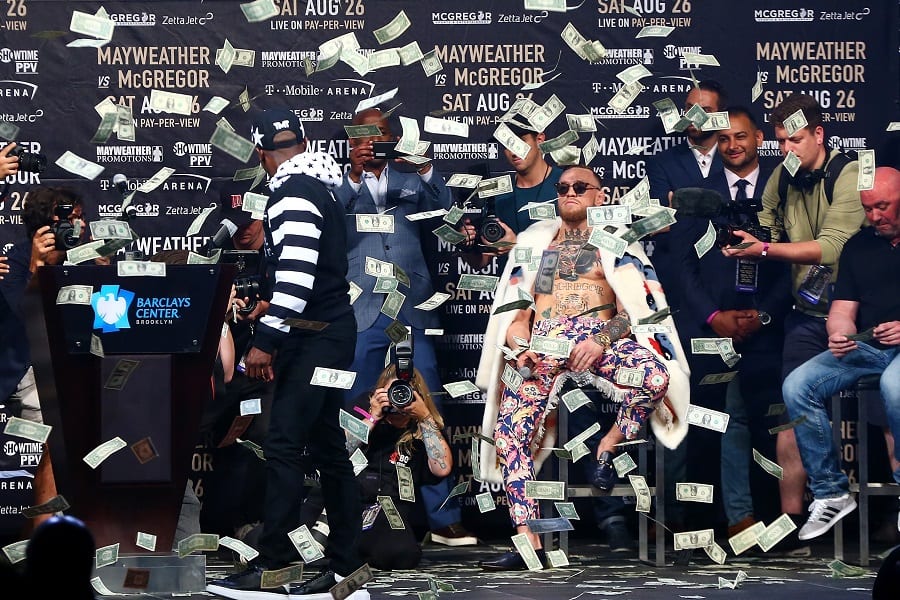 Fighter popularity can play a significant role in UFC ticket prices.

If the card is built around a household name like Conor McGregor. It is almost certain that fan interest will be off the charts, and the increased demand will translate into higher ticket prices.
Conversely, if there's a fight featuring a lesser-known up-and-coming fighter, there's less fan interest and media hype. Therefore, lower demand to see the fight translates into more affordable prices.
Event location
The venue and location of the event also play a significant role in the ticket price.
Getting a UFC ticket in expensive cities like New York or London is different than in cities like Houston or Chicago.
Their operational costs to put the event together are probably higher, and they might pass the cost to you, the fan.
Timing of purchase
The timing of purchasing UFC tickets can significantly impact the price.
Generally, tickets are released in phases, with the earliest release being for UFC Fight Club members, followed by a presale for UFC newsletter subscribers, and finally, the public sale.
Buying early or late are acceptable strategies that can impact how much you pay to see your favorite fighter live. But more details about buying strategies later.
Seating Location
The seating location is another factor that affects your UFC ticket prices.
Octagon side or floor seats or UFC VIP fan experiences are more expensive than those on the upper level or further away from the action.
Ticket Scalpers
Have you ever tried to buy your UFC tickets online and found that they were sold out after you waited in the queue? Unfortunately, you're not alone. UFC ticket scalping is when someone buys tickets to a UFC event and resells them for an often exorbitant profit.
This means that the tickets end up costing two or three times more than their face value, which can be a real bummer if you are already spending money on travel, accommodation, and other expenses.
UFC ticket scalpers are a massive problem for the average fan. These people have pretty sophisticated systems to acquire multiple tickets, and the pricing is often ridiculous for average seats. We're talking $300 or $500 for regular seats in a high-profile fight.
How to Get Cheap UFC Tickets
If you're looking to attend a UFC event but don't want to break the bank, you can use a few strategies to get the best deal on tickets.
These strategies are not guaranteed that you might get the best deal, but they'll certainly help improve the odds in your favor.
Join the UFC Fight Club
You can join the UFC Fight Club for $85 a year at the time of this writing. You get a cool t-shirt, access to an exclusive forum with other die-hard fans, and, what's most relevant to us, exclusive access to presale tickets. The benefit applies worldwide.
This means that you can get it and still enjoy early access to the tickets for an event in Brazil.
Lately, there have been some complaints among fans as companies running the venues launch their newsletters for presale access. This leaves fans that paid to join the fight club with fewer tickets. Not cool.
Join the official UFC Newsletter
The UFC might run promotions and discounts on ticket prices, especially for events that are not selling as well as expected. You can Sign up for the UFC's newsletter to stay updated with the promotions and discounts they might share there.
UFC Presale Newsletter
A lesser knows tactic is joining the UFC's presale newsletter, as the name suggests, is a specialized newsletter where they might share some UFC ticket presale deals.
Look for last-minute tickets on secondary marketplaces
This is a risky tactic, and it is not recommended for people traveling to the event, but it can lead to significant savings. Consider using StubHub, particularly if the fight isn't entirely sold out.
Check the available tickets the day or night before the event. I know it sounds like a long shot, but It is not uncommon to find people that might be unable to attend and are selling their tickets at the original price. Tickets can be on a 50% discount or lower if you're lucky.
Consider attending a less popular event
We all want to see massive title fights and the top-ranked guys fighting live, but UFC events held in smaller cities or featuring lesser-known fighters are often more affordable than high-profile events in major cities.
If you're on a budget, consider attending one of these events instead of a highly anticipated matchup. UFC Fight Night events are usually cheaper than numbered events.
Pick a seat that is worth the effort and the money
If you're attending a UFC fight for the first time, you might have no clue about what to expect at each section of the venue.
You might spend $250 on a seat that sucks, and that could totally ruin the experience. For example, only get floor tickets if you can get a front seat floor ticket. It sounds exciting to be as close to the action as possible, but you won't be able to see much because the seats are flat and there are too many people in front of you.
On top of that, lately, those floor tickets are crazy expensive, easily thousands of dollars at a high-profile fight.
What are the best tickets for a UFC event?
---
The top seats are the cheapest but suck (see the 400 section in the picture). Too far away to truly see exactly what's going on.
Following these strategies can increase your chances of getting a good deal on UFC tickets and save money while attending live events.
Are UFC seats in the 300s any good?
The seats in the 300s at a live UFC event are good. They're the best choice for the average fan. You'll have a decent view of the Octagon and might get a good deal if you purchase your UFC tickets early.
Depending on the event, expect to pay at least $400 for tickets in the 300s (if you're lucky) in a highly anticipated fight.
Here's what the view looked like from a seat in the 300s at UFC 287:
Types of UFC Tickets
Different types of tickets are available, each with its pros and cons at various price points. Here are some of the most common types of UFC tickets you can get:
General Admission Tickets: General admission tickets are the most affordable option for attending a UFC event. These tickets give you access to the general seating area.
UFC VIP Tickets: UFC VIP tickets are a huge step up from general admission tickets and come with a wide range of exclusive perks and amenities. They can cost thousands of dollars. Depending on the event, VIP ticket holders may have access to a separate entrance, premium seating, complimentary food and drinks, meet-and-greet opportunities with fighters, merch from the event, access to the weight-ins, private transportation, and more. If you have the money, this is a high-end experience that any hardcore fan would love.
Ringside Tickets: Ringside tickets offer some of the best views of the Octagon, as they are located just feet away from the action. These tickets can be pricey, but they provide an up-close and unmatched personal experience. Don't miss any punch, takedown, or submission, and you might be around celebrities and other fighters from the promotion.
Floor Seats: Floor seats are similar to ringside tickets but located slightly further back from the Octagon. These seats still offer a great view of the action, but as we established before, the last rows might not provide the best experience.
Those are the most common tickets to attend a UFC fight. But how much UFC tickets cost? Let's break it down in detail.
How Much Do UFC Tickets Usually Cost?
Before watching a UFC fight live, the most important thing you should ask yourself is, how much will this cost me?
As we established, UFC tickets come in a wide range of prices affected by different factors, including the fighters' popularity, the venue's location, and the type of ticket being purchased.
But how much should you expect to pay on average for a UFC ticket?
The Average Cost of UFC Tickets
| | | | |
| --- | --- | --- | --- |
| UFC Event | Total Gate | Attendance | Average UFC Ticket Price |
| UFC FN:204 | $4.500.000 | 17,081 | $263 |
| UFC FN:169 | $402.958 | 7,098 | $57 |
| UFC FN:168 | $1.239.625 | 10,025 | $124 |
| UFC FN:167 | $596.820 | 6,449 | $93 |
| UFC FN:166 | $1.303.320 | 14,533 | $90 |
| UFC ESPN:37 | $1.930.000 | 13,689 | $141 |
| UFC ESPN:33 | $1.921.988 | 18,630 | $103 |
| UFC ABC:3 | $2.110.000 | 16,979 | $124 |
| UFC 277 | $4.455.691 | 19,442 | $229 |
| UFC 276 | $10.409.553 | 19,649 | $530 |
| UFC 275 | $1.546.732 | 10,787 | $143 |
| UFC 274 | $6.127.962 | 17,232 | $356 |
| UFC 273 | $3.550.000 | 14,604 | $243 |
| UFC 272 | $6.760.000 | 19,425 | $348 |
| UFC 271 | $4.300.000 | 17,872 | $241 |
| UFC 270 | $5.290.213 | 17,387 | $304 |
| UFC 269 | $800.000 | 18,471 | $43 |
| UFC 268 | $9.903.557 | 20,715 | $478 |
| UFC 266 | $5.609.906 | 19,029 | $295 |
| UFC 265 | $3.460.000 | 16,604 | $208 |
| UFC 264 | $15.759.800 | 20,062 | $786 |
| UFC 263 | $4.200.000 | 17,208 | $244 |
| UFC 262 | $4.110.000 | 16,005 | $257 |
| UFC 261 | $3.300.000 | 15,269 | $216 |
| UFC 248 | $2.742.906 | 15,077 | $182 |
| UFC 247 | $3.549.418 | 17,401 | $204 |
| UFC 246 | $11.087.629 | 19,004 | $583 |
| UFC 278 | $4.297.655 | 18,321 | $235 |
| UFC ESPN:41 | $1.735.905 | 12,804 | $136 |
| UFC FN:209 | $3.242.837 | 15,405 | $211 |
| UFC 279 | $5.670.271 | 19,125 | $296 |
| UFC 281 | $11.562.807 | 20,845 | $555 |
| UFC 282 | $4.409.511 | 18,455 | $239 |
| UFC 284 | $4.086.687 | 14,124 | $289 |
| UFC 285 | $12.154.753 | 19,471 | $624 |
| UFC 286 | $8.580.000 | 17,588 | $488 |
| UFC ESPN:43 | $2.150.000 | 16,076 | $134 |
There are some sites out there saying the average UFC ticket price is $70. Yes, I know those still exist today. However, that average price does not consider current demand trends and the ticket scalper tax.
Furthermore, it ignores that it is almost impossible for the average fan to get their tickets at face value for the hottest fights of the year.
I wanted to make this guide as factually accurate as possible. So, I gathered the relevant data from 37 UFC events from January 2020 to March 2023, and the average UFC ticket price is about $298.
Here's a chart with the average ticket price per event so you can easily identify price trends:
This average only includes events between 2020 and 2023 where they allowed fans. Also, only some revenue and attendance numbers are disclosed for every event. Still, This average is a good benchmark; if you look for the cheapest tickets online, that number is close to reality.
I gathered the disclosed revenue and attendance numbers for each UFC event to calculate this. Then, I divided the revenue between the total attendance. I added up the average ticket price for each event and divided the total by 37.
UFC TIcket Price Trends
Your UFC ticket prices will vary depending on the event and ticket demand. Generally, you will pay a higher average price per UFC ticket if you attend a numbered UFC event. UFC Fight Night events are, on average cheaper to attend.
Ultimately, it is up to you if UFC ticket prices are worth it. But, whether you are a die-hard fan or a casual, attending a live UFC event can be an unforgettable experience, and now you have a benchmark for the average price.
But where to get them? Let's review the best options.
Where to Get UFC Tickets Online?
The UFC's official website is the most obvious place to look for your tickets online. As of April 2023, they're using Ticketmaster to sell their tickets. If you want to purchase your tickets on the official website, follow the steps.
1) Go to www.ufc.com
2) Click on "EVENTS" and the go-to "UPCOMING"
---
3) Scroll down to your desired event and click "TICKETS".
---
---
4) After you click, you'll be redirected to Ticketmaster's website. On the map, choose your desired section.
---
---
5) Choose your seat.
---
---
6) Click "Next"
---
---
7) Click "Sign Up" if you don't have an account and fill out the form you'll see there.
---
---
8) If you already have a Ticketmaster account, input your account information and sign in.
---
---
9) Finally, read and accept the terms and conditions, add your payment method, and place your order.
---
Best Sites To Buy UFC Tickets Online
Several third-party ticket sellers offer UFC tickets. However, it is essential to be cautious when purchasing tickets from third-party sellers, as there is always the risk of scams or fraudulent tickets. But more on possible UFC ticket scams later.
To help you out, here's a list of reputable websites where you can safely purchase your tickets:
Website
Description
TicketNetwork.com

100% money-back guarantee
20+ years operating
Good customer service
ScoreBig.com
100% money-back guarantee
TicketNetwork subsidiary
Offer sports, concerts, theater, and family events
AwesomeSeating.com
More than two decades in business
100% money-back guarantee
Large ticket inventory
SeatsforEveryone.com
100% insured sales
No sign-up required
Credit cards and PayPal payments
SuperStar.com
Receive valid tickets or get your money back
Over 1 million orders completed
No returns or exchanges allowed
StubHub.com
Recognizable brand in the ticket industry
Presence in 90+ countries
100% guaranteed orders
SeatGeek.com
Trusted ticket marketplace
Solid buyer guarantee
Useful metrics to rate tickets like Deal Score
*This table is only a quick overview of each site's offer. Remember to conduct your due diligence and carefully read the terms and conditions before placing any orders.
Overall, there is a wide range of options for MMA fans to get their UFC tickets. It is essential to research and shop for the best prices.
Whether you buy tickets through the UFC's official website (TicketMaster) or a third-party reseller marketplace, attending a live UFC event will be an unforgettable experience.
How To Aboiv UFC Ticket Scams
Sadly, ticket scams and fraud are common problems in live events, and UFC events are no exception. Here are some of the most common ticket scams and how to avoid them.
Fake Tickets From Fake Websites
Scammers will set up fake websites that look and feel legitimate. They will add official logos and even claim to be authorized UFC partners.
These websites appear out of nowhere, and scammers claim exclusive deals to get the tickets before everyone else.
Once they get enough people to buy fake tickets, the site might disappear, leaving you with a phony ticket or no ticket. However, these people are lazy, and there are many things you can do to spot these unreliable websites.
How can you protect yourself from these fake website scams?
Make sure that the site has an SSL certificate. You can spot this by checking that the URL starts with "https://." Furthermore, you can also click on the little lock icon next to the site's URL, which should tell you if the site is secure. Most modern internet browsers will even warn you when accessing some of these unreliable sites.
Check our list of reputable UFC ticket marketplaces. These are sites with a proven track record of successful transactions. Also, many have been in business for over 20 years, and offer a money-back guarantee.
Beware of too-good-to-be-true deals. If a website gives away tickets at a significantly lower-than-average price before reputable ticket providers, it's a scam. As a reference, the average UFC ticket price is $298.
Use your credit card: If you buy tickets online, use a credit card. They offer more protection against fraud, and you can dispute the charge if you don't receive the tickets you paid for.
Buy only from UFC's official website. This is the most obvious tip, but to be as safe as possible, get your tickets only from the UFC or their trusted third-party sellers.
Be aware of Craigslist ticket deals
Avoid getting your tickets on sites like Craiglist from suspicious individuals. You might find people selling tickets they purchased with stolen credit cards, and they will ask for cash only.
The tickets won't be valid once the card owner cancels the transactions. The scammers will get your hard-earned cash, leaving you no UFC tickets.
By being aware of these common UFC ticket scams and following these tips to protect yourself, you'll have an enjoyable experience at a live UFC event.
How Much UFC Tickets Cost FAQs
Are UFC Tickets Expensive?
It depends on the event and the seat location you choose. UFC tickets can range from around $298 to several thousand dollars. Typically, the closer you are to the action, the more expensive the ticket. Hyped events like championship bouts or highly anticipated matchups tend to have higher ticket prices.
Are UFC Presale Tickets Cheaper?
Not necessarily. Presale tickets are available to UFC Fight Club members or those who have signed up for the UFC newsletter, but the prices are the same as regular on-sale tickets. However, remember that presale tickets for UFC Fight Club members don't guarantee access to the best seats available.
Can I resell my UFC tickets?
Yes, you can resell your UFC tickets, but you should do so through a reputable ticket marketplace like Ticketmaster, StubHub, or SeatGeek. These platforms offer a secure way to sell your tickets to other fans. Be cautious of buying or selling tickets on websites like Craigslist or eBay, as there is a higher risk of scams.
How can I avoid getting scammed when buying UFC tickets?
Only purchase tickets from reputable sources to avoid getting scammed when buying UFC tickets. Stick to official ticket marketplaces or authorized ticket resellers. Be wary of deals that seem too good to be true, as they may be fraudulent. Always verify the ticket seller's reputation before making a purchase.
How do I get a refund for my UFC tickets?
Refund policies vary by event and ticket seller. If you purchased your tickets through a ticket marketplace like Ticketmaster, you could request a refund through your account. If you purchased your tickets through the UFC website, you should contact customer support to request a refund. It's important to note that not all tickets are refundable, so be sure to check the terms and conditions before making a purchase.
Conclusion
In conclusion, understanding UFC ticket prices can give you tools to plan your buy. The timing of purchase, fighter popularity, and ticket type can all play a role in determining the cost of tickets.
It's also important to know the different options for purchasing tickets and common scams to avoid.
Getting the best deal on UFC tickets is often a matter of price comparison and patience. Third-party ticket sellers and resale marketplaces can offer reasonable discounts, but it's essential to be cautious and only purchase from reputable sources.
Ultimately, whether or not UFC tickets are worth the price is up to each fan. For some, the experience of seeing their favorite fighters in person is priceless, while others may prefer to watch from home and save money. But after reading this guide, you have enough tools to make an informed decision and get the most out of your UFC event experience.
Until next time!
Recent Posts
Other UFC Posts You Might Like