If you've ever suffered a knee injury from BJJ or any other sport, you know the struggle of searching online for a reliable knee brace. With countless brands competing for your attention, knowing which is worth the investment is tricky.
I've taken matters into my own hands and conducted an in-depth review of the famous and premium-priced Bauerfeind Knee Brace.
In this Bauerfeind knee brace review, I aim to establish whether it is worth trading in your hard-earned money. Here's what we'll cover:
What makes the Bauerfeind Knee Brace special?
Does it live up to its hype?
Unboxing the pros and cons
Should you get one or not?
Let's get to it.
Bauerfeind Knee Brace – Review Summary
In short, the Bauerfeind knee brace is a pricey, medium-support option for sports practitioners — a worthy investment after my in-depth testing for BJJ enthusiasts and athletes alike. It offers great compression, enough stability, and superb comfort.
Pros
Slim and lightweight design
Reliable anti-sliding system
Provides excellent compression
It offers a good range of motion
Cons
It might be pricey for some
Why Trust This Bauerfeind Knee Brace Review?
---
In a world where online reviews can often be deceiving, I believe in transparency and honesty when evaluating products.
My goal is to help you make a conscious purchase decision based on my experience with the product. But why should you trust this review? Here are the key reasons:
1. I purchased the Bauerfeind Knee Brace myself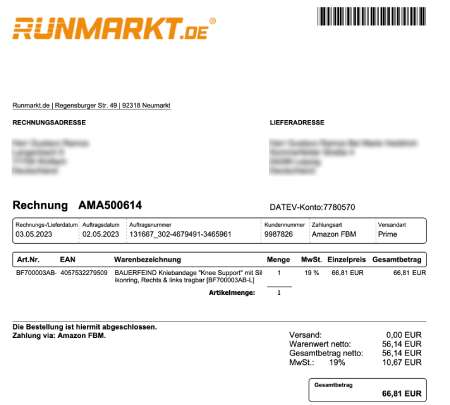 ---
I bought the knee brace myself as part of my commitment to write helpful reviews.
2. I prioritize honest opinions
If there's something I like about the product, I'll tell you. And if I don't like or simply hate something about the product, I won't hold back.
3. I field-tested the brace myself
---
I have been using the Bauerfeind sports knee support for more than three months, and This is what I've done with it:
Walking for about 3.1 miles (5 km) more than 20 times.
BJJ solo drills with a grappling dummy.
Muay Thai heavy bag drills.
Put it in the washing machine.
Work on my laptop sitting.
Though I haven't been able to test it in sparring sessions due to my knee injury, I am confident It would perform well.
Let's take a look at some o the key features.
Bauerfeind Knee Brace Review: Key Features
| | |
| --- | --- |
| Key Features | Details |
| Material | 3D AIRKNIT™ technology |
| Comfort | Gel padding around the knee |
| Grip | Anti-slide rubber inside the knee sleeve |
| Mechanism | Pull up closing system |
| Compression | Medical grade |
How Does it Look Like?
---
---
The Ultimate Weigh-In: Pros and Cons
Like any other product, the Bauerfeind Knee Brace comes with its own share of advantages and downsides. So, let's dive right into that:
Pros
Slim and lightweight design
Washing machine friendly (max 86°F)
Reliable anti-sliding system
It fits well with accurate sizes
Provides excellent compression
It offers a good range of motion
Cons
It might be pricey for some if insurance doesn't cover it
If you ignore the washing instructions, you might damage key components.
Is the Bauerfeind Knee Brace Good?
---
Let's not beat around the bush. The Bauerfeind knee brace is excellent for people needing medium-level knee support while practicing sports.
Yes, It is expensive, but after investigating and field-testing this knee sleeve for months, I've concluded that it indeed offers several worthy features for BJJ enthusiasts and athletes in general:
A-Grade Compression
The brace offers excellent compression and makes you feel comfortable performing power-packed moves.
I have second-degree patellar arthritis, sometimes hurting if I sit too long. The brace even helped me to deal with some pain while sitting in front of the computer. Which I was thrilled about.
Stability & Flexibility Meet Here
The brace provides exceptional stability even when you're breaking some sweat during your training sessions.
Bauerfeind knee brace for bjj
I felt a ton of support from the hinges while holding the close guard or going for triangles. This is one of the noteworthy features any BJJ practitioner would appreciate.
I never felt the brace was in the way of my movements on the mat. Also, I did some squat drills to increase my range of motion, and I could always easily squat up and down.
A Sturdy Companion – It Stays in Place!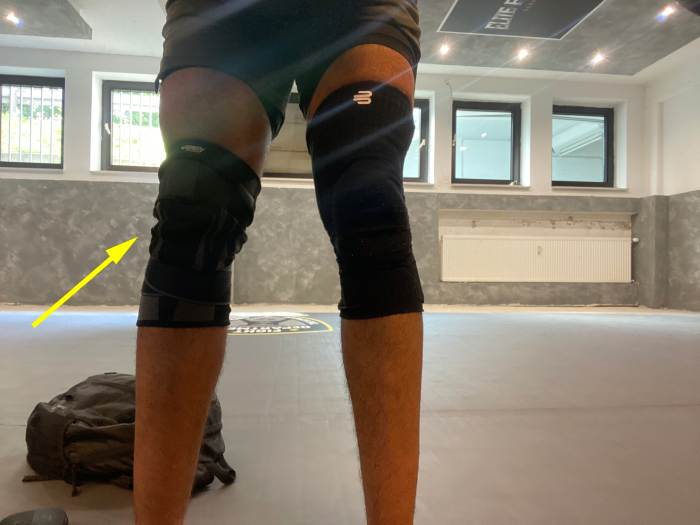 ---
In this photo, you can see on your right the Bauerfeind knee brace after a training session I had. My anaconda knee brace was all over the place, while the Bauerfeind was in perfect position.
I kicked, rolled, did some takedown drills, and punched the heavy bag. The brace always stayed in place after my training sessions. Plus, it helped the discomfort of a condition like second-degree patellar chondropathy while training.
Now, I can't attribute my pain relief only to the brace. I've done a ton of physical therapy and had an MBST treatment.
Comfort Redefined
The combination of gel padding around the knee and their 3D AIRKNIT™ technology struck me as a perfect blend of comfort and breathability.
I sweat a lot, and the materials were as breathable as it gets for a knee brace. Some other braces I owned before would get pretty uncomfortable fast. They would even trigger my knee pain. That's not the case with this one.
What's Not So Great About The Bauerfeind Knee Brace
---
After the first wash, I noticed that the fabric around the knee gel padding was starting to come apart. Even the anti-slip material and logo were peeling. Given the price and all the positive reviews about its build quality, you can understand why I was a bit bummed.
But here's the thing—I made a mistake. I had washed the brace inside out, and my washing machine was set to 104°F (40 °C). When I later checked the care label, it clearly stated to wash at temperatures no higher than 86°F (30 °C). So really, the fault here was mine, not the manufacturer's.
---
To avoid my mistake, remember this if you get one of these knee braces: wash it as you wear it, with the logo on the outside, and ensure your machine is set to max 86°F.
Even with the wash hiccup, the Bauerfeind knee brace is doing its job just fine for now. But we'll see if my laundry mishap comes back to haunt me down the line.
Bauerfeind Knee Brace – Worth The Price?
Alright, let's break this down —the Bauerfeind Knee Brace is pricey, and that's before we even get into shipping. Now, I hear you; that sounds like a deal breaker. But trust me on this, after doing my homework and actually using this thing, it's worth every penny.
Bauerfeind, the company behind this brace, has been in the game since 1929. They're known for their Innovation Center, a hub of sports professionals, therapists, and scientists, working hard on enhancing braces and technology. This shows they're all about getting better and delivering top-notch stuff.
And it's not just me enjoying their products. You've got Dirk Nowitzki, Olympic athletes, and heavy-hitting fighters like Francis Ngannou, using their stuff for recovery and keeping it together in competition.
---

Also, to add my two cents here —I've been struggling with chronic knee pain for years. Any product that gives me even a bit of relief from the pain is worth my money.
But, hey, here's the caveat. If your insurance doesn't play nice and cover the cost, even with your doctor's note, you might want to think twice about dropping that kind of cash.
Endgame – Should You Buy The Bauerfeind?
So, if you asked me, "Is this brace for me?" It depends. If you have a severe injury and you just had surgery, this is not the brace for you.
You may need a brace with more compression and robust hinges for stability. But the Bauerfeind knee brace is a solid choice if you're in the active part of your recovery, just needing some extra support for that knee during training.
Now, another big thing to consider here is your wallet. You have to make sure this brace isn't going to break the bank. If it fits comfortably into your budget, then go for it!
This brace is hands down the best I ever owned, and I would buy from them again. The compression, comfort, breathability, and full range of motion offered for my particular condition are ideal.
Bauerfeind Knee Brace Alternatives
If this brace is out of your budget, here are my top four alternatives at different prices:
To Wrap: Bauerfeind Knee Support Review Final Words
In a nutshell, If you're dealing with severe knee issues, this Bauerfeind brace may not be ideal for you.
But if it fits within your budget and you're seeking some quality support for your knee during your training sessions, investing in this brace isn't a bad idea!
The top-notch compression, quality build, and design have found favor among Olympic athletes and top combat sports professionals, making it a top contender when you're looking for a knee brace.
Recent Posts