Sanabul Essentials Gi
Good entry-level Gi for the newbies at a reasonable price.
---
IBJJF approved design and build
Affordable
Rash-resistant
---
Your Gi is an essential item in your arsenal as a Jiu-Jitsu practitioner. With so many Jiu-Jitsu Gis to choose from, it can be overwhelming to choose the best BJJ Gi.
It's tough to pick the "best" Gi out of all of them since each one has its pros and cons.
However, two that are always the topic of debate are the Sanabul Essentials Gi and the Venum Classic Gi.
In this MMAWhisperer gear review, you'll discover:
The durability, style, price, and comfort of both Gis
Pros and cons of each Gi
Final verdict between the two Gis
After you're done reading, we're sure you'll be ready to order one of these fantastic Gis for your collection.
Let's start with a quick review of both products.
Sanabul Essentials Gi Overview
---
Although they are a newer brand, Sanabul has more or less proven itself as one of the most reliable names when it comes to gear for martial arts – particularly in BJJ Gis.
The Sanabul Essentials Gi is an affordable lightweight, durable, and very comfortable product.
If you struggle with conditions such as feeling nauseous during Jiu-Jitsu training, the lightweight material may be a good choice.
In terms of style, it features a simple "Sanabul" text on the shoulders and the company logo at the left of the jacket and the right leg of the pants.
The Gi is IBJJF safe and competition ready. However, it also works well as a training Gi because of its weight and build.
I should add that Sanabul offers many products that might make great martial arts gifts any fighter would love.
The Sanabul Essentials Gi is Great for IBJJF Tournaments as well as BJJ Training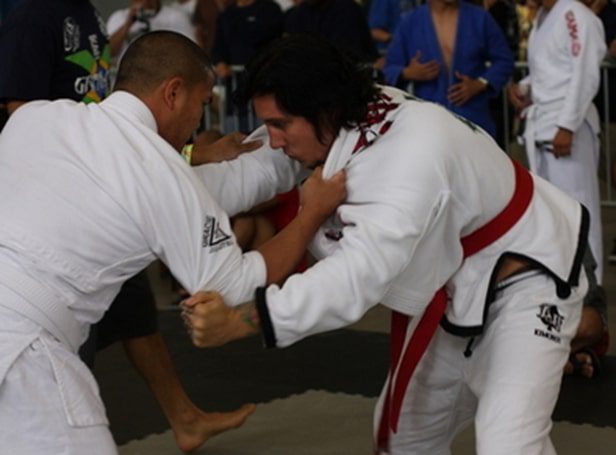 It comes in four colors: black, blue, white, and gray. The colors are sturdy and don't wash off very quickly.
Speaking of washing off, the Gi is made from pre-shrunk fabric, so you don't need to worry about sizing when picking one out.
Some users comment that the jacket and pants are a tight fit, so don't forget to check out the size guide properly before buying.
The jacket and pants remain extremely functional even after months of use, thanks to their contrast and compact stitching, rope drawstring, and reinforced seams. Although the Gi itself is designed in a retro way, it doesn't come with the excess Gi material that most traditional Gis are made out of.
A good Gi is an absolute must when it comes to the gear you need for BJJ, so I recommend investing in your Jiu-Jitsu Gi early on.
You'll have fun with this Gi for a long time as it's made of rash-resistant material, which can also reduce the chances of getting ringworm from BJJ since your skin will be less abraded.
Pros
IBJJF approved design and build
Affordable
Rash-resistant
Cons
Simple design
Fit can be tight
Jacket can be a bit stiff
Venum Classic Gi Overview
---
The Venum Classic 2.0 BJJ Gi is a pearl weave Gi.
The jacket is 450gsm-light, so your movements remain as fluid and smooth as possible. On the other hand, the pants are 280 gsm diamond ripstop for maximum durability.
If you've worn the previous iteration of the Venum Classic, you'll notice that the jacket is thicker in 2.0.
What about durability?
The Venum classic Jiu-Jitsu Gi utilizes ripstop fabric for maximum durability
Aside from the thickness, the jacket also features an EVA collar and reinforcements located at critical points to help maximize durability.
If you train Judo or wrestling for BJJ, the durable fabric will come in handy.
Style-wise, the Venum is much simpler, featuring only a brand logo on the left shoulder. Inside the jacket is the Venum name stitched on perfectly.
It comes in black, white, and blue colors. Overall, the design is simple, but that's expected for a Gi that's IBJJF-approved.
Unfortunately, some users comment that after three weeks, the colors start to fade off, which may be a big issue, especially if you're getting one of the darker colors.
Pros
IBJJF approved
Reinforced in strategic locations
Very comfortable
Cons
Colors wash off easily
It can shrink a lot after the first wash
Simple design
Considerations When Purchasing Your Jiu-Jitsu Gi
The following section reviews the key considerations you should make when deciding between the Sanabul Essentials Gi and Venum Classic Gi.
Durability
Both Gis are lightweight and competition-ready.
The Sanabul Gi features ultra-lightweight reinforced fabric all-throughout the jacket.
On the other hand, the Venum Gi has pearl weave stitching and reinforcements on critical areas on the coat, such as the collar and the sleeves.
While Sanabul's all-around reinforcement makes the Gi slightly more durable, it results in a tighter fit for the jacket.
On the other hand, Venum's Gi has just the proper reinforcements to make the Gi feel more comfortable while retaining durability simultaneously.
The Venum Classic is More Comfortable and Retains Most of the Durability as the Sanabul Essentials
The scales tip even further when looking at the pants. Venum's Gi has diamond ripstop technology, while Sanabul doesn't have any. Aside from that, Venum also added reinforcements to the knee area of the pants.
In terms of durability, we'll score this one up to Venum.
Style
In terms of style, both Gis remain practically the same.
They're both simple IBJJF-approved Gis with nearly the same color selection. Sanabul wins in this area as they have a gray-colored Gi.
For some athletes, the Sanabul text that's stitched on the shoulders might be a bit of a turn-off. It's large and takes a lot of the attention from the rest of the Gi. Venum's more discreet placement at the inner back of the jacket is simple and more appreciated by some.
Venum has also taken the effort to patch their logo on the left side of the jacket, which is a great choice.
Sanabul's chest placement of their logo remains simple, but overall, most BJJ practitioners would prefer to have their Gi looking clean.
The same can be said for the styling of the pants. Venum takes a simple approach to brand and name placement, which gives it an advantage in our opinion.
We Prefer the Less Prominent Branding on the Venum Classic Gi
We'd have to Give our hats off to Venum when it comes to style. Their choice of simplicity and discreet brand placement is much better than what Sanabul planned.
Price
The Sanabul Essentials Gi can cost anywhere from $50-$90 dollars depending on where you buy it.
On the other hand, the Venum Classic Gi tends to be pricier, with prices typically coming in over $100 USD depending on the size and any promotions from the seller, although this is expected from a better-known brand.
As you can see, there's a huge difference between the price of both Gis.
In terms of performance, however, the more affordable Sanabul doesn't lag too far behind. If you want more bang for your buck, it's clear that the Sanabul Essentials Gi has a more reasonable price.
Nevertheless, if you want the absolute best Gi out of the two, you'll need to pay for the more expensive Venum Classic.
The Venum Classic is a Better Gi Overall, But Costs Substantially More Than the Sanabul Essentials
The Sanabul Essentials Gi serves as a great entry-point Gi for BJJ beginners.
Despite catering to that market, the Sanabul Essentials Gi is also great for BJJ athletes that compete often because of its durability.
don't miss the Best bjj Gis
Jiu-Jitsu Gi Fit
Both Gis offer the same size variations, which is a good thing.
Additionally, both manufacturers promised that their Gis are already pre-shrunk. Users of both Gis report that there's still some minor shrinkage, so it's pretty much a tie in this area.
As for the fit itself, we have to Give this one to the Venum Classic Gi. In our experience, the Gi's fit is perfect on both the pants and the jacket.
The Sanabul Essentials Gi has accurate sizing based on their chart. However, some users feel too tight to the sleeve area running up the armpit.
Extra Features
Sanabul offers a great promotion on their Gi, which entitles you to a belt with each purchase. Sadly, Venum doesn't hand out free belts on their end.
Service-wise, Sanabul is quick to get back to their customers as per reviews.
Sanabul's Gis Come With a Free Belt and Excellent Customer Service
On the other hand, Venum's representatives take longer to respond – if they even respond. This can be a deal breaker, especially if the Gi comes with issues.
Sanabul Offers Superior Customer Service Compared to Venum
Although the Venum Gi is made with better material and feels more premium, Sanabul put more love into the extra features.
The Essential Gi even features antimicrobial and Anti-Odor treatment, so you stay fresh and healthy on the mats.
In terms of these "unspoken features," the award goes to Sanabul.
Sanabul Essentials vs Venum Classic Final Word
The Venum Classic Gi is the clear overall winner. While it's more expensive, the Gi's durability, comfortability, and overall design make it better for training and competition.
The Sanabul Essentials Gi may have the upper hand in price and extra features, but if you want a Gi that's longer lasting, it's best to save up for what Venum has with the Classic Gi.
Regardless, either Gi will serve you well in your BJJ training and competition if you're an average BJJ enthusiast.
Recent Posts